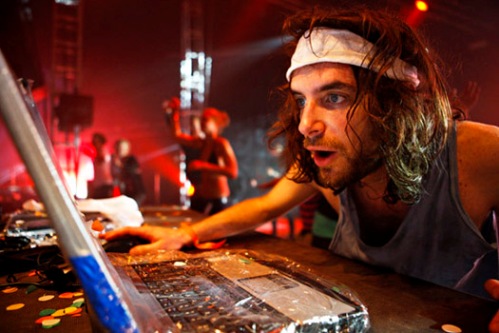 A night at Showbox SoDo with Girl Talk = the best party you'll find in town tonight (and tomorrow night, for that matter).
Seriously. How can you not? Whether you're holding out for some Dolly-Parton-laced Boy George or a Jay-Z / adult contemporary mash-up, chances are that the two shows Gregg Gillis are bringing to the SoDo stage are not going to disappoint. In fact, we predict that even the most cement-footed stand-in-the-back city folk will have a hard time not getting their groove on at the show. If you've seen GT before (the Capitol Hill Block Party and 2009's appearance at Austin City Limits come to mind), you know the crazy of which we speak.
This is the part where we'd link you over to the Showbox site to get tickets, however, a bit of internetting shows that both nights are 100% sold out. There's no mention of tickets being released at the door — but a little rumor-birdie (with a name that rhymes with Twitter) told us you might be able to catch Mr. Gillis tonight down at the ChaCha later this evening as a prefunk to the Showbox show. Truth? Dare? You may want to go for happy hour and find out.
{AA / $25 DOS / sold out. Photo courtesy of Girl Talk.}