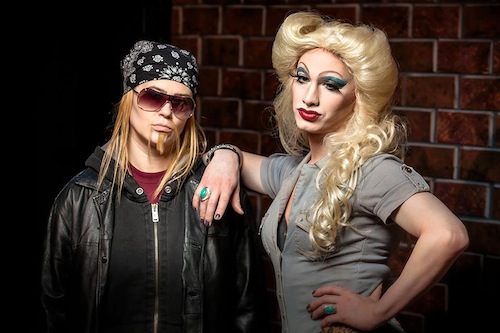 Erin Stewart as Yitzhak and Jerrik Hoffer as Hedwig!
Photo by: Christopher Nelson
Before last week, I had only ever seen Hedwig on film. Being one of the movies I love SO dearly, I was both excited and nervous about seeing it on the stage. I mean, I KNEW I'd love the story itself, because it's fantastically written, and it was performed as a stage play to begin with. But still. Would this production live up to my high expectations? Would Hoffer be able to channel Hedwig as well as John Cameron Mitchell? And most importantly, would I be able to sing along to all my favorite songs?
The answer to (most) of these things is a resounding HELL YES.
Jerrik Hoffer is AMAZING as Hedwig. By the second song, I was like "JohnCameronWHO?" (kidding JCM! kidding. I still love you!). But no, seriously. You guys. Hoffer rocks the shit out of this role, as does Erin Stewart as Hedwig's long-suffering love, Yitzhak — and they are ably backed by a band composed of local guys who play their instruments and comedic back-up roles with equal skill.
Directed by Ian Bell — who does one of my favorite things in Seattle, the Brown Derby Series — Hedwig takes place all on one stage set-up, with a few rotating props here and there. But really that's all you need, because Hedwig IS the main attraction, telling the audience her story and sparring with her band mates in-between rockin' out. There's no intermission because you don't need one; it's a stream of lovely storytelling from beginning to end, and everything about it is perfect. I saw the first preview performance, and even a slight wardrobe malfunction was worked into the story so seamlessly it seemed like it was supposed to happen.
About singing along, well. You guys know how Seattle audiences are. There were a couple of shout-outs during the actual part where the audience is ASKED to sing-along to "Wig in a Box", but even though my friend and I were dancing like mad in our seats and I was singing with Hoffer to most of the songs for the whole show, I didn't notice very many others partcipating. And of course, after the final number when Jerrik & Erin started singing some Bowie and T-Rex tunes, the audience was a sea of stillness. People! Come on. Get up and dance, for chrissakes.
Anyway. For those who know the story, you will LOVE this production. And for those who don't know it, I really find it's best to go in without too much background (although the two older couples who sat in front of us might not agree — we ran into them on the street later and they were looking stunned and uncomfortable: "What did you think?" they asked … and when I told them I loved it, they said "Hmm. yes. Well… " and backed away, slowly.).
Just know that the music is a blend of some of the best glam rock and early punk mixed with awesome lyrics, and that the story involves struggle, love, humor, growing, sacrifice, and a whole lotta heart. And buy some tickets now, because it only runs for another 6 days!
{STG and the Balagan Theatre present: Hedwig and the Angry Inch | 1/15-1/27 | The Moore Theatre | $17.50-$32.50}