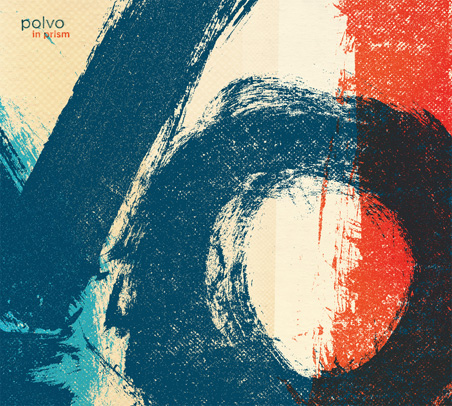 When I moved to Seattle 12 years ago, I spent a lot of time talking on the phone to friends back home, mostly about music. My friend Keith mentioned Polvo to me and I said I hadn't heard of them. I still vividly remember his response: "Get thee to a record store, woman! I'm hanging up right now. Go!" So I went out and bought Shapes. Two days later, I went back and bought Exploded Drawing. I was really drawn to both the sludgy drone of the guitar work and the random, weird Eastern backdrop of it all. And then it was over. Polvo was suddenly, sadly no more.
When Polvo was got back together to play All Tomorrow's Parties in New York last year, Keith and I were front and center. That show was surreal and we counted ourselves lucky to have been there and to have finally seen some serious math rock legends play a live show after all that time. I think the success of that show and the response received prompted Polvo to get together and give it all another try.
In Prism is Polvo's first studio album in 12 years, but it seems like it's barely been a day. The same quality fuzz is pouring out of my speakers, although it's a little cleaner now than it used to be. Fans of Slint and Sonic Youth will appreciate the screechy feedback-y noise of it all, coupled with secondary, mumbled lyrics. True Polvo fanatics will have the odd sense of both being shot back in time and yet being oddly present in the same moment.
On the Merge Records website, Mike Wolf (NYC) said it better than I can: "Only at this point in life would they be so assured, so casually stormy and intensely calm, graceful and free with their power only as guys their age, grown-ups who grew up without growing up, without setting aside anything that made them the rock artists they were during their first, unblemished run. There is not a thing on In Prism that they aren't doing better than before: the sidewinder guitars and the mighty roar and the moody atmospheres and the psychedelic explosiveness, the writing, the singing, the words you can understand, and the ones you can't."
Polvo will be supported by Seattle's latest, greatest noise rock sensation Bronze Fawn on October 6th at the Crocodile.