"You can't make change if you're not willing to give something up." –Dolores Huerta
Profoundly inspirational. Profoundly. Dolores is a moving and fascinating documentary chronicling a seminal and currently all-too-relevant time in our country's history through the story of one of its principle architects, the should-be-but-isn't-legendary activist and mother of 11, Dolores Huerta. In the 1960s, she was one of the founding architects of the United Farm Workers, which, under a sustained campaign of non-violent resistance through community organization, successfully formed the first labor union for immigrant farm workers, granting them access not just to health care and vacation but to goddamn water and bathrooms and the right to not be gassed by pesticides while working. She pioneered door-to-door get-out-the-vote canvasing and was on the front lines of intersectional activism, working closely with Coretta Scott King and Gloria Steinem, among others. She coined the rallying call "Si Se Puede." Perhaps you've heard it since.
Had you heard of her?
You're gonna. Dolores, like Dolores Huerta herself, is a super-concentrated 200 proof Si Se Puede summons to get on our collective feet and marshal the power we hold in our hands if only we can come together and wield it.
Edited to add: She'll be attending the showing on Monday at Pacific Place, and if you have the opportunity, I cannot more highly recommend seeing her. She spoke for a while after the show I saw and then spent speak after the show. She talked with unquenchable, articulate enthusiasm about the value each of us has, and her message was so targeted: systemic change is required, but individuals are the ones who make it. Afterwards, she excused herself for a moment to collect herself before coming outside to shake hands, but it took a good 25 minutes for her to make it out of the restroom because an ad hoc receiving line sprung up. I thought about trying to get the SIFF staff to rescue her, but she honestly seemed just as happy chatting with the women in there as she did anywhere else. It was remarkable to watch her work.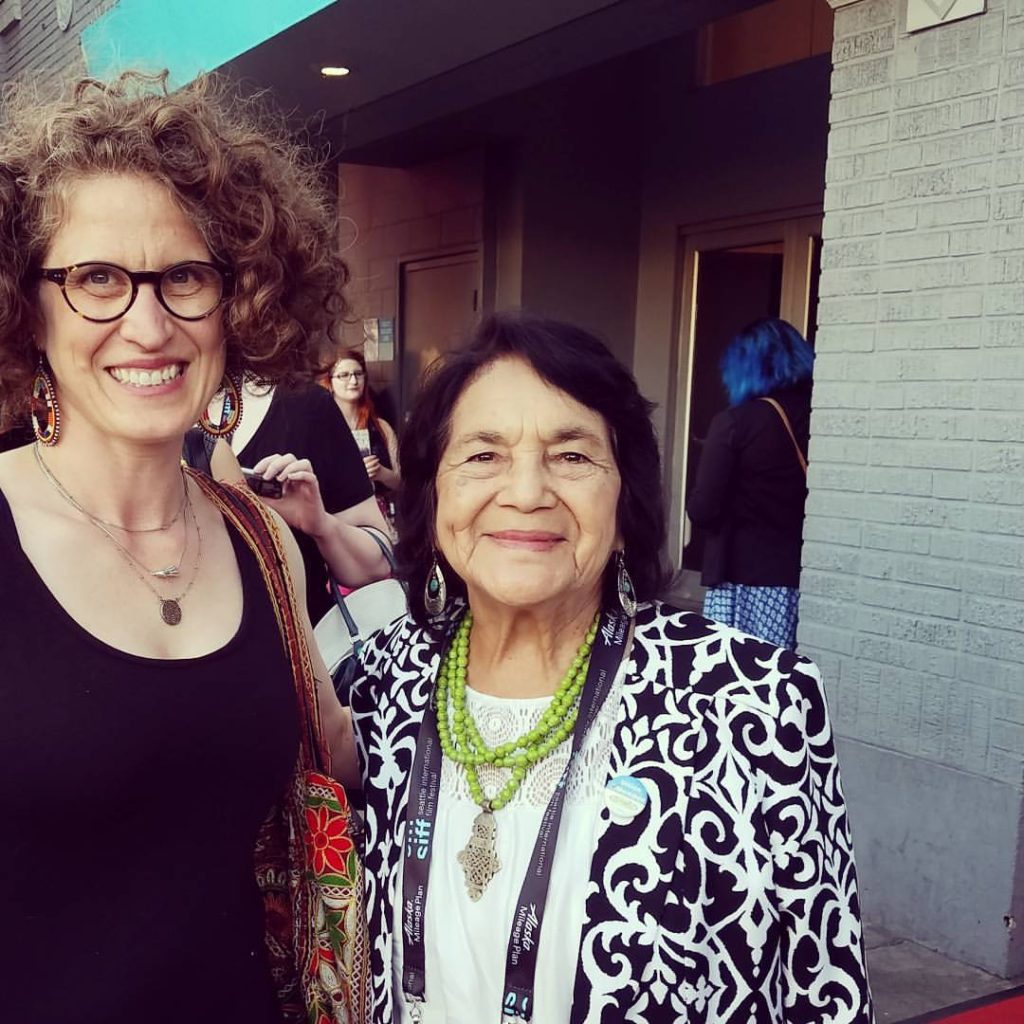 {Dolores screens at SIFF Monday May 29 2:00 PM at AMC Pacific Place, when Dolores Huerta is scheduled to attend, and June 3 3:30 PM at Ark Lodge Cinema}