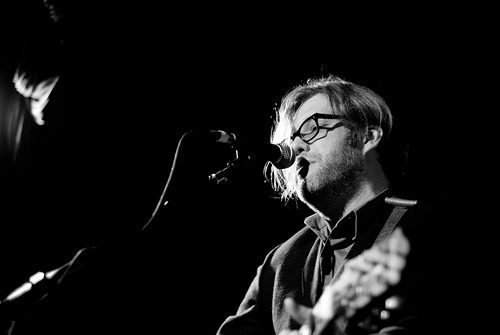 {photo by Victoria VanBruinisse}
When I asked my dude if he wanted to see John Roderick at the Triple Door this Thursday with me, his response was "I don't know. Is he just going to read his tweets?"
Our dear indie-rock-Santa-Claus John Roderick has had a very prolific Twitter career lately, posting little tiny bits of genius at 140 characters (follow him @johhnroderick, it's very much well worth your time). He recently won "Tweet of the Year" from the Seattle Weekly Web Awards. Barsuk even put out a book last year, Electric Aphorisms, containing 365 of his tweets. Said dude of mine refused to buy this for me for Christmas (despite my pleading), saying he'll buy his next album, but he refuses to support him actively not making music.
Well, the time has come again to actively support John Roderick making music. He's booked 3 solo-ish shows (some with special guests) at the Triple Door this summer, and the first one is tomorrow. He's said (via twitter) that all old songs are on the table. (There may even be a handful of new songs. ) Jason Dodson of the Maldives opens, along with J-Rod's childhood friend Karen Korn doing stand up (and part of me hopes this stand up will all be ridiculous stories of J-Rod as a child, because how awesome would that be?). The show is all ages and starts at 8. Plus, it's going to be like 90 degrees tomorrow, and the Triple Door has fancy schmancy air conditioning. Skip the movie you will inevitably have to go see to escape the heat and come support one of Seattle's greatest songwriters.
And, in case you've forgotten how magical John Roderick is solo, check out this video from the wonderful One Shot at the Croc series. Commence swooning.
[video:http://www.youtube.com/watch?v=nymrBQ00pCw&feature=related]