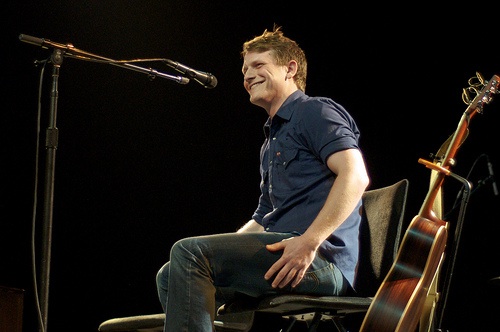 Dear Seattle: You do not want to miss Matt Bishop's set at the Tractor tonight. The end.
If you were fortunate enough to see our favorite local seven-piece indie.orchestra-pop band's frontman go solo at the last City Arts Song Show, you are familiar with the awesomeness of which we speak. Matt Bishop, of the highly-esteemed, new vinyl-releasin', fresh-off-still-kinda-mid-tour Hey Marseilles, puts on a solo show that does not dissapoint — the City Arts set was full of stripped down full-band favorites and a few new takes on some sweet old covers. All that and a choice set of interview questions for a lovely evening did make.
Drooling yet? Well, fret not: if you missed Matt's last showcase showdown, you've got yourself a second chance. Perched in the opening spot for Peasant tonight sits HM's lead songsterer, doing a full solo set for the proverbial cause. He's been dropping love notes via Facebook invites that direct the masses to his newly ressurected MySpace page — where four previously unreleased solo tracks have been put forth for our listening pleasure. And really good ones, at that: one of our new non-negotiable, can't-live-without tracks is Matt's gorgeous, sparse cover of "Never Tear Us Apart" by INXS.
Yes, INXS. Trust us.
So here's a quick recap: Click. Listen. Click. Purchase. Attend. Swoon. Fin.
We'll see you tonight at the Tractor!