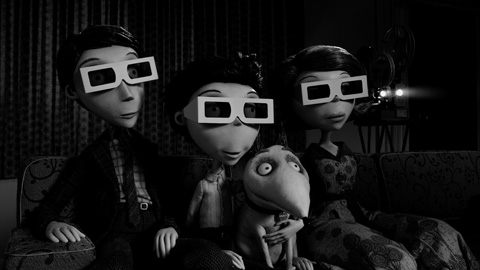 What better way to kick off October than with a double feature of animated Burton-y goodness? Look, I know the guy has made some mistakes lately (I can't even talk to you about Dark Shadows … it's just. I … macrame?!?!?! yeah), but he sure does know how to create some beautiful animated films that fill my former teenage Goth girl heart with much barely beating, deep black love.
One of those animated masterpieces is The Nightmare Before Christmas, which I am admittedly a bit obsessed with. I don't trust anyone who doesn't smile at the antics of the confused Pumpkin King, Jack Skellington, and his misguided attempt to take over another holiday.
The second, which I have been highly anticipating, is the animated remake of Burton's beloved 1984 live-action short Frankenweenie. I recently unearthed my prized Frankenweenie cutout from my video store days, and just looking at it and thinking about the awesomeness of the new film makes me all squee-happy, wild-eyed, and jumpy. With an official opening date of 10/5, that means this is a sneak peek! yayyyyyyyyyyyy!
You guys, I am an addict, and my drug is Tim Burton stop-motion animation.
Anyway! For only $15, you can seat yourself at SIFF Cinema Uptown on Tuesday, October 2, and see these two features back-to-back in 3D — with a special appearance by award-winning animation producer Allison Abbate (who has worked on all of Burton's animated films). I'm in. How 'bout you?
{Tim Burton 3 Animated Double Feature | SIFF Cinema Uptown | October 2, showtime 6:30pm | No late seating | $15 GA, $10 for SIFF Members }