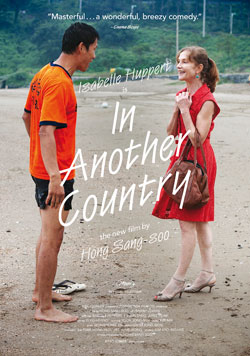 In Director Hang Sang-soo's In Another Country, three different women played by the same actress (the lovely Isabelle Huppert) visit the same seaside resort in Korea, encountering a trio of men who can't help but fall for her (duh. It's ISABELLE HUPPERT) — including a lovestruck lifeguard who fumbles through every seduction.
The stunning Huppert acts the hell out of each part: a filmmaker, an adulterer, and a divorced woman in despair, and each repetitive situation seems so awkwardly real that you can't help but laugh … over and over again.
It's charming in a way that makes me curse recent American-made rom-coms, and a satisfying way to spend and hour and a half. Dig up $8 and head over to The Grand Illusion to see it before 2/7.
{In Another Country | 7pm & 9pm at The Grand Illusion cinema | through Thursday, Feb. 7 | $8/$5 for members/$6 for students}