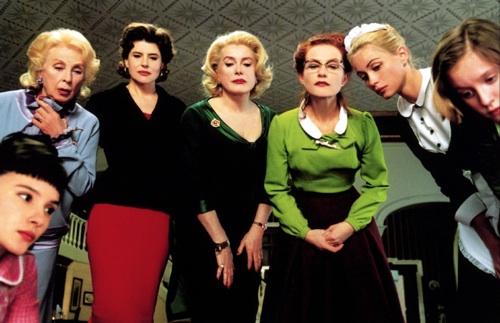 I know I'm not the only one who developed an instant crush on Catherine Deneuve the instant that I saw her slink onto the screen in The Hunger, but just in case you're not aware of the glory of this gorgeous French force of nature, you should get yourself over to SIFF Cinema this weekend to view her unforgettable on screen presence. They've put together an impressive package of four films (sadly, the goth culture mainstay mentioned above isn't one of them) that showcase a range of her awesomeness from 1967 to 2010.
8 Women is one of my favorites – a comedy/musical centered around a patriarch's murder, with a cast of so many fabulous French women it's almost hard for Catherine to stand out – except, you know, she's Catherine Deneuve. Belle de Jour is a simply fantastic and heartbreaking portrait of a lost woman, and Dancer in the Dark is so good – and so depressing – it will almost kill you. The only one I haven't seen yet is Potiche, but with François Ozon directing (he also helmed 8 Women), I'm 100% positive it will rule.
Tix are $10 ($5 for SIFF Members) each for Dancer in the Dark & Potiche, and $12 ($7 SIFF Members) for an 8 Women/Belle de Jour double feature. The price is WELL worth it for the opportunity to watch Ms. Deneuve tear up the screen.