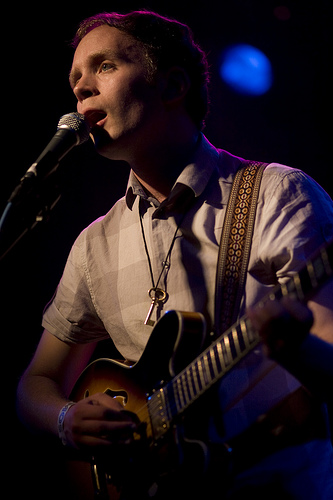 (photo by Laura Musselman)
Sometimes, while listening to Swedish performer Jens Lekman, I'm often frustrated. Why is he not recognized as one of the worlds' greatest songwriters? His charisma shows heavily through his beautiful melodies, like admitting that he's forgotten the joke in "A Man Walks Into A Bar" or mishearing a friend's existential plea for help in "Maple Leaves" ("But she said that we were just make believe/but I thought she said Maple Leaves"). I've long used his plaintive sense of humor mixed with his gorgeous sense of melody as a remedy to get myself out of any funk.
Tonight (and tomorrow!) at the Crocodile, he'll hopefully make a few new converts to the Believers of Jens.
(Plus, since the croc is so new and fancy… maybe they'll have air conditioning).
I hope he plays this song (probably one of my favorite songs ever).