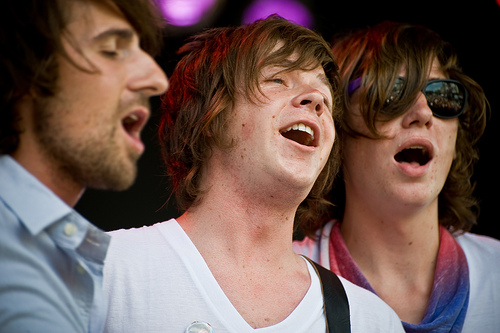 I've spend the better part of the last half-hour trying to find words for the mindblowing goodness that went down at the Fremont Abbey Arts Center last night, and my keyboard is failing me. So here's the straight business:
Hey Marseilles is my new favorite band. Sallie Ford is my new favorite awkwardly gorgeous young songstress. And Evan & Virginia Easthope are a force to be reckoned with. If any of them are playing anywhere, any time, go see the set. Period. End rant. I've heard of Hey Marseilles, of course, and I've also heard a lot about them. I've given the album a drive-by and I've paid attention to the reports that came back from Doe Bay, the Capitol Hill Block Party, and Bumbershoot. In fact, I've even had occasion to meet various members of the band, and I've seen video performances on the internets. But before last night, I had yet to physically see and hear a live Hey Marseilles show. And I can't believe I waited so long to soak up the amazingness of witnessing this band perform in the flesh.
They completely and totally knocked my socks off.
The lyrical side of Hey Marseilles' songwriting (I don't know if it's one source or collaborative) layers with a half-dozen instruments and gorgeous backing vocals to deliver a flawless package for the duration of their performance. Each song starts out with a gentle grab at the front of your shirt, lines like hold your maps up and tear up the floorboards introduce storylines that are impossible to turn away from, forcing the listener to hang on to threads of words to find out what happens next. And right when they've got your heartsrings pulled taut, the band will hit homeruns on top of homeruns with well-placed chord changes, unpredictable breaks and bridges, and stellar harmonies. I pretty much stood motionless in the back of the room, mouth half-open, moving only to grab the sleeve of the person next to me as if to say, "Shut. Up. You've got to be kidding me."
It certainly didn't hurt matters that the Fremont Abbey Arts Center was equally flawless in sound and layout, as well as in attracting the kind of crowd that sat at attention for the duration of the sets without making so much as a whisper — it was a real listening-room kind of environment, and so well-suited for this particular batch of performers and what they brought forth. Evan & Virginia Easthope, a brother/sister combo, laid out raw emotion through their acoustic contributions to the Round, with Virginia's vocals bouncing like cold bright sunlight throughout the room. And Sallie Ford — well, Sallie Ford almost stole the show. I haven't found out much about her yet, here's the snapshot: Buddy Holly's little sister (cat glasses, big-red electric guitar) meets vocal stylings of Regina Spektor, Amy Winehouse, and the like… add two parts awkward, one part lyric-stuffed notebook that's bursting at the seams, stir, and serve.
Let's put it this way: I bought her EP about ninety seconds into her first song. Literally.
So that's a wrap. I'd like to take space to formally thank Christen Greene for the show, the venue for being everything it was, and all of the performers for the magic that was created last night — what started as a casual foray to Fremont wound up being yet another affirmation of exactly why I moved to Seattle. You know, because performances like this happen for six dollars, under the radar, and at some point in the course of the evening the fabric of who I am winds up permanently altered, for the good.
All of this, and it's only Wednesday.
{By the way, big thanks to Dan Muller of Trickshot Photography for the Hey Marseilles photo, performing live at the Capitol Hill Block Party.}