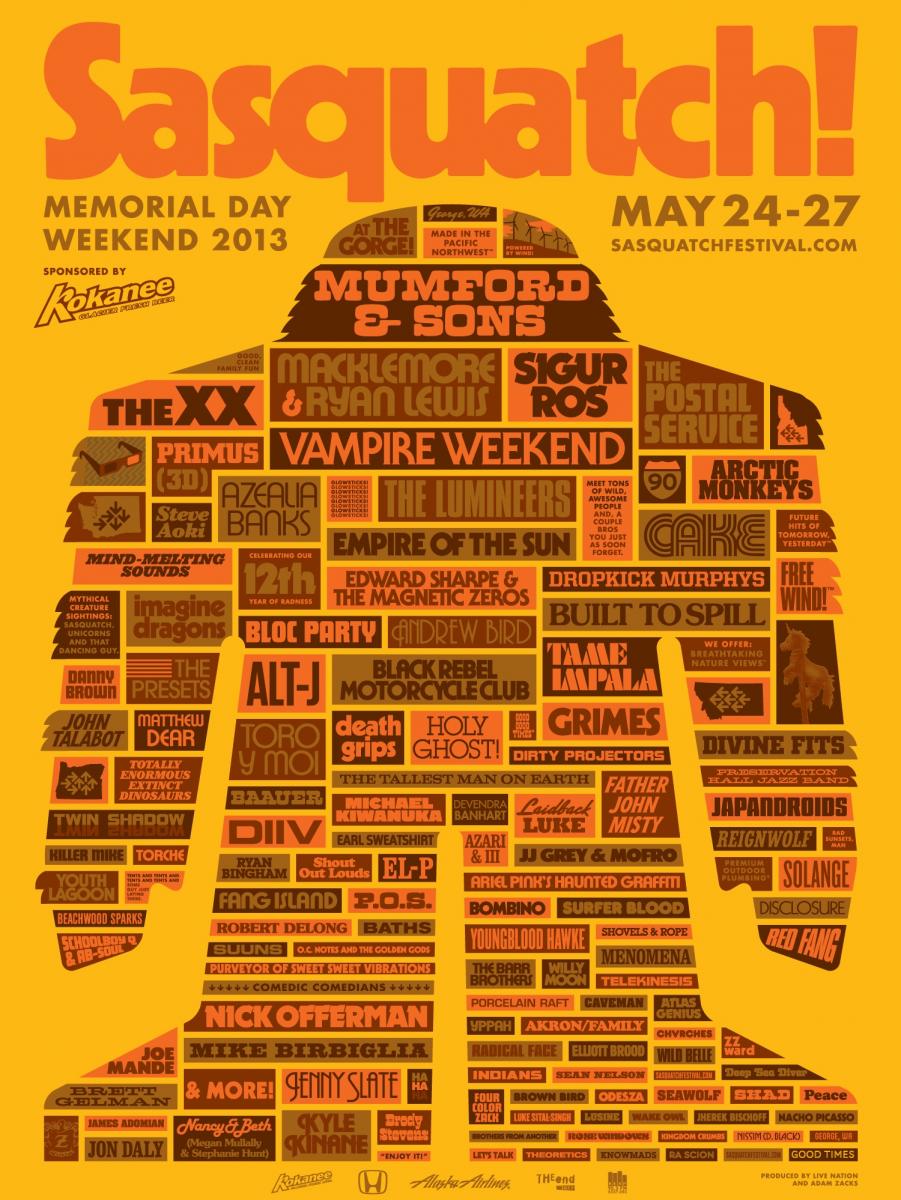 We're giving you the day-by-day for this year's Sasquatch! music festival — check out our recommendations for Friday here, Saturday here, and read on for Sunday's picks!
Start Sunday off right with Seattle's Deep Sea Diver, playing at 1:00 on the Bigfoot stage. Originally a solo project of guitarist Jessica Dobson, the band has evolved into a three piece that includes her husband Peter Mansen on drums. Dobson shreds on guitar; enough so that she's spent time during the past year on tour as a guitarist for The Shins. Must see! Next up, at 2:00 on the Yeti stage, is Sean Nelson, who most will know as the former frontman for Harvey Danger. Nelson is set to release a solo album on June 4th titled Make Good Choices, featuring collaborations from Death Cab For Cutie's Chris Walla and R.E.M.'s Peter Buck, and this will be a good chance to hear some of those new songs up-close-and-personal style.
At 3:05 on the Bigfoot stage is Diiv. The four-piece band is the project of Z. Cole Smith, former member of the band Beach Fossils. Smith has a strong admiration for Kurt Cobain, but the band has a sound that's distinctly different from his musical idol: elements of krautrock and early 90's shoegaze dominate Diiv's vibe. For a changeup, Seattle rapper/producer/multi-instrumentalist O.C. Notes will be taking the Cthulhu stage at 4:15. The project is the moniker of Otis Calvin III, who can also be heard in the hip-hop duo Metal Chocolates. For Sasquatch, he'll be joined live on stage by several talented Seattle area musicians, including Erik Blood on bass, Thomas Hunter (Wild Orchid Children) on guitar, Trent Moorman (Head Like A Kite) on drums, and Vox Mod on synths. Can't wait!!
Back on the Bigfoot stage at 6:50 is Swedish band Shout Out Louds, who earlier this year released their fourth studio album, Optica. Their simple pop songs are often comparable to Montreal band Stars. Stick around the Bigfoot stage for Earl Sweatshirt at 8:15. Earl is a member of Tyler, the Creator's rap group Odd Future and might be the most talented of the bunch. Although he's just 19, the kid can flow. His debut album Doris has been rumored to be close to a release for months now, and Earl has been playing some of the songs off of the album at festivals recently, meaning he'll certainly be playing some at Sasquatch. If Earl whets your hip-hop appetite, you can follow up his set with Killer Mike's over at the Yeti stage at 9:10. Mike has been around for a while, releasing his sixth album R.A.P. Music last year.
After you've got your hip-hop fix, dance the night away with the electro-pop sounds of Grimes, who will be on the Bigfoot stage at 10:00. The project of Montreal's Claire Boucher, Grimes layers her high-pitched vocals over some seriously catchy dance beats. Her fourth album, last year's Visions gained her a lot of attention (and rightfully so-it's fantastic), thanks in large part to songs like "Oblivion" and "Genesis."
Who are you excited to see? Let us know in the comments below!
{Sasquatch takes place at the Gorge Ampitheater in George, Washington from Friday, May 24th through Monday, May 27th.}