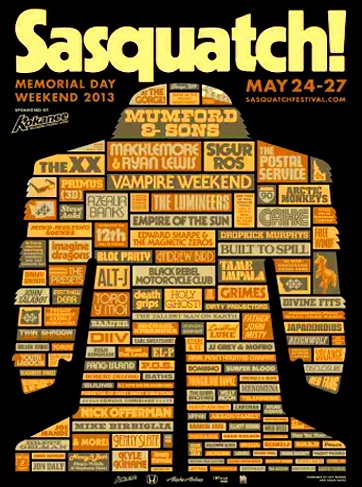 Imaginaries! Sasquatch is right around the corner, and as always, this year's festival has a little something for everybody. There's the folky hand-clapping foot-stomping sounds of Mumford and Sons, the reunion of The Postal Service after a ten year hiatus (!), the inescapable hip-hop of hometown favorite Macklemore, and, what's sure to be an unforgettably epic nighttime set from Sigur Ros. If you're headed to Sasquatch, you're likely pretty familiar with most of the big name mainstage acts. Thankfully, in-between all those great headlining sets, there are tons of great acts (many of them hailing from the great Pacific Northwest) to see off on those side stages. Hopefully this list will give you some ideas of who to see while you're basking in the glory of all that is Sasquatch…
If you're one of those ambitious types that will be there when the gates open Friday afternoon, you'll be rewarded by a set from Erik Blood, playing on the Yeti stage at 4:00. Blood is an accomplished local producer, having manned the boards for local hip-hop acts Thee Satisfaction and Shabazz Palaces in recent years. He made lots of noise on his own with his 2009 debut The Way We Live, and followed it up with the equally fantastic Touch Screens in 2012.
Following Blood on the Yeti Stage at 5:05 is local composer, producer, and orchestral musician Jherek Bischoff. His 2012 release Composed features contributions from the legendary David Byrne, and songs bring to mind some of the eastern European influenced sounds of DeVotchka and Beirut, as well as the orchestral-pop sounds of Hey Marseilles.
At 6:05, head over to the Bigfoot stage for Vancouver duo Japandroids, whose no-nonsense rock will surely have a lot of people kicking up dust. You can read an imaginary review of their show at Neumos last summer here. Then, back on the Yeti Stage at 7:15 you've got yet another great Seattle artist, Telekinesis. The solo project of Michael Benjamin Lerner, he released his album Dormarion earlier this year, and with it came the fantastically catchy lead single "Ghosts and Creatures":
Every festival comes with tough decisions to be made, and Sasquatch is no exception: Father John Misty plays over on the Bigfoot stage at 7:30, during the latter half of Telekinesis' set, and overlaps with Northwest legends Built to Spill on the Main stage (7:10-7:55). Head back to the Yeti stage at 8:30 for Boise's Youth Lagoon — the solo project of Trevor Powers — who released his sophomore album Wondrous Bughouse this past March.
You can finish off the night at 9:45 on the Bigfoot stage with Vampire Weekend, (who are pretty much a headlining act playing a side stage). They're sure to feature plenty of new songs too; their third album Modern Vampire of the City comes out on May 14th.
Who are you excited to see on Friday? Let us know in the comments below! And stay tuned this week for picks for the rest of the festival.
{Sasquatch takes place at the Gorge Ampitheater in George, Washington from Friday, May 24th through Monday, May 27th.}