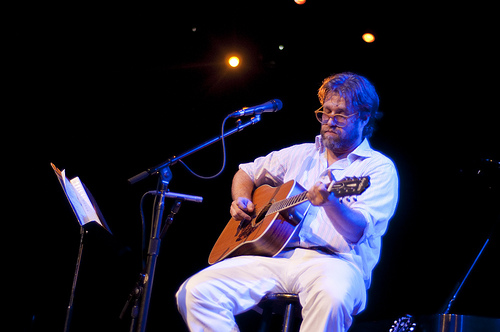 Just in time for a sunny, heat-filled weekend: another installment of cool, dark, lushness at the Triple Door with our favorite frontman, John Roderick. We're extra-excited about the goodness this round, as Kathleen Edwards will be joining the lineup alongside John, with openers El May starting off the night.
The source says it best — here's a snippet from the Long Winters website:
As a last-minute reminder for those rapscallions who haven't reserved their tickets to all of John Roderick's residency shows at the Triple Door in Seattle, the second of three shows is coming up quickly! Next Saturday […] should already be circled, starred, and crossed out on your calendar to make sure you have no superceding engagements, but just in case you haven't yet — do so now. Tickets are [still] available, but going fast.
We wholeheartedly agree. Visit the Triple Door's website here and make sure you've got your spot on the list. Tickets are $20 adv, all ages, doors at 6p. And while you're waiting for your payment to process, here's a snapshot of what you can expect this Saturday, courtesy of our friends Laura Musselman and Adam Pranica and all their mega-talented amazingness:
[video: http://vimeo.com/13895887]
Swoonworthy, indeed. We'll see you at the show!