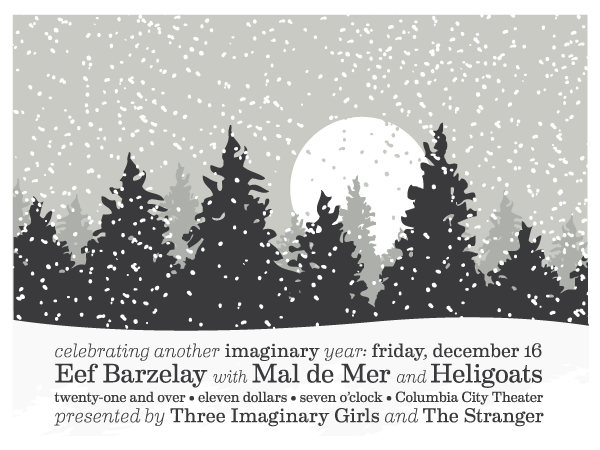 Hear ye, hear ye! The annual imaginary holiday wintertime spectacular is right around the corner, and we want YOU to save the date! Get that sharpie out and put a big ol' star on Friday, December 16th. We'll be swooning the night away at Columbia City Theater and we'd love it if you and your pals came out to join us in the festivities!
This year's show features none other than Clem Snide's Eef Barzelay, along with Mal de Mer and Heligoats. We're especially excited to announce the return of Santa himself, John Roderick, who will be holding photobooth court with the esteemed Laura Musselman in the Bourbon Bar for the earlier part of the evening. That's right — we'll be taking over the whole venue!
So get that snappy holiday gear out from the back of your closet, shine up your shoes, and get ready to spread some holiday cheer with us. Tickets are only $11 and are available for purchase over at Brown Paper Tickets. And if you're as excited as we are, you can RSVP over at the Facebook event page too.
Stay tuned for band features and more details about the show in the upcoming weeks! Hope you can make it!! xoxo