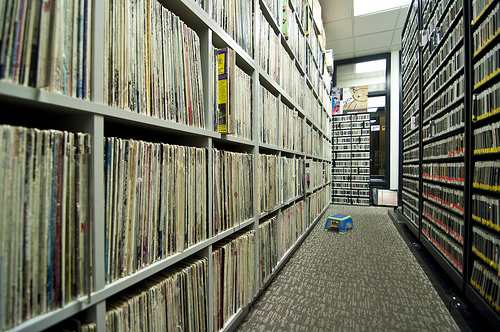 Okay, so we won't have this many records at our disposal, but we will have a lot! Join us for Imaginary DJ Night at St. John's on Capitol Hill, on Thursday, March 14th from 5p – 8p. Staffers Chris Estey, Imaginary Keenan, and Imaginary Amie will be taking over the turntables with oodles of records as part of the Step Into My Office series, two weeks from tonight.
Expect to hear everything from Chris's selections of blitzkrieg vintage soul rock, shiny punk ear dazzle, deep chocolate love dub, and rainbow power pop odes to the mother (and the lover) (and all things undercover); to Amie's nostalgia / new sound spectrum (New Order remixes, pretty please!) and Keenan's eclectic mix of jangly indie-pop, loud indie rock and dancey post-punk. It'll be a mixed bag of goodness with something for everyone to get down to, for sure!
Stop by after work, say hello, have a sip and a bite, and spend some time with your imaginary pals at one of our favorite haunts. St. John's is located in the space formerly known as the Rosebud on Pike Street, and if you haven't been, you're truly missing out! They've got happy hour from 2p – 6p, thoughtfully crafted cocktails and plates, a truly lovely staff, and a great vibe!
We'll see you on the 14th!
{KEXP library photo by Victoria VanBruinisse.}