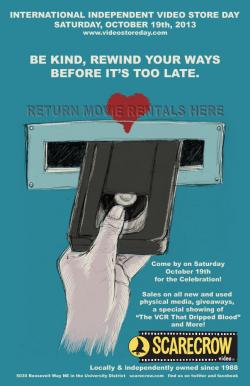 Well, really what I want to say (and what I say every year) is to show your love for Scarecrow Video more than just this one day of the year — although if you haven't been in for awhile, this Saturday is as good a time as any to start!
Scarecrow is honestly one of the greatest places on earth, and I swear I'm not exaggerating. I've been going there for years, and every single time I've ever been looking for ANYTHING, even the most obscure thing, Scarecrow has had it in stock. Granted, I spend most of my time in the Psychotronic room or browsing the Director sections, but man-oh-man. All the other sections and rooms rule too! They are simply THE GREATEST.
This Saturday, they've got a ton of awesome things going on for International Independent Video Store Day, and I really encourage you to go check it out. Stop in and for all the happenings, including:
50% off used movies for sale on Saturday AND Sunday
$3 off new Blu-rays and DVDs for sale
10 rentals for $35 (a $10 savings)
Grumpy Hour Specials all day long at VHSpresso!
And chances to win prizes!!! Enter to win:
A year-long pass to SIFF Cinema Uptown & SIFF Film Center
A theater rental from the Grand Illusion Cinema (!!!)
Passes for the NWFF
Passes for Landmark Theatres
Passes to the EMP Museum
Also, filmmakers Megan Griffiths and Lacey Leavitt curated a bunch of films from the height of the VHS-era just for Scarecrow customers! So cool. (make sure you listen to their podcast with Matt here too). Then, at 8pm, they are showing their complitation of horror clips: The VCR That Dripped Blood!!! It's really cool. Trust me. You can totally grab a beer and some snacks at VHSpresso, sit down, and watch it for free … as long as you're over 21.
Plus, there are FREE things!! I love free things. How 'bout you? Last time I got a free Criterion tee and an awesome J-horror DVD with my Blu-ray purchase. Plus, I bought one of the best tee shirts ever made and renewed my 10 rental pass! It's so worth it. Did you know you get to keep non-new releases for AN ENTIRE WEEK? Think of how many movies you could watch in that time. One of my favorite things to do is to grab some coffee and take a seat in the screening room to see what's playing, then browse around the sections and pile up some rentals to take home for the week. And if you have any questions, or just wanna talk film, every single person who works there has a wealth of movie knowledge that puts mine to shame.
What if you can't make it on Saturday? Just go visit them! And soon! Also, did you know you can shop online with them too? This is especially important to do now, because Scarecrow needs your help. Friends and fans of the store have known for awhile that the going is rough, and Scarecrow won't be able to survive for much longer if business doesn't improve. Read this gorgeous open letter from the owners for the full details. I really, really don't want to live in a Seattle without this awesome place around. I truly, sincerely LOVE it.
The VCR That Dripped Blood trailer from brian alter on Vimeo.
{Poster by Marc Palm}