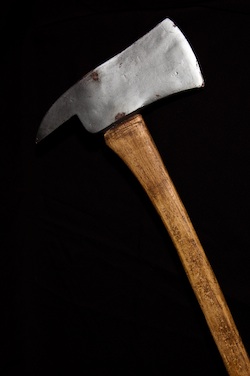 Not literally, of course. BUT! You guys. I have been to the EMP's new Can't Look Away: The Lure of Horror Film exhibit twice in the past 4 days and I think I'm in love.
The ax from The Shining! Masks from An American Werewolf in London! A full-size Alien! Actual pages from Bram Stoker's Dracula! Guillermo del Toro's illustrated journal! Freddy's glove! Jason's mask! GROSS stuff from Hostel & Hostel 2! Tons of interview footage! A scream booth! Crazy shadow creature-making special F/X! An f'ing CRITTER!!!
*whew* ok, okay, Amie. Remember to breathe.
But seriously, like everything at the EMP, this exhibit is totally amazeballs. They blew this thing out with enough detail to keep both casual horror fans and diehard genre buffs happy, happy, and more happy.
As you walk in, you see "The Thicket", which includes sectioned-off rooms containing clips of Roger Corman, Mick Garris, John Landis, and Eli Roth (who helped EMP curator Jacob McMurray pull this awesomeness together) talking about iconic horror films like The Exorcist, Ringu, Suspiria, and more. Then there's all kinds of cool artifacts presented in scientific-like displays, charts about why we love horror films and how to escape each type of horror monster, a scream booth that captures your expression on film, cleverly presented features on Roth, Corman, and Landis – and omfg. I'm sure I'm leaving something out.
Anyway, the details: this exhibit is planned to run for at least 2 years, with changing artifacts and of course, a ton of tie-ins like the Oral History I saw yesterday with John Landis (JOHN!! LANDIS!!!), possible film screenings, and other events. Don't worry, I'll keep y'all posted. But for now: get down there to see this! There is just no way you'll be disappointed.
EMP Museum
325 5th Avenue N
Open Daily: 10am-5pm
$20 Admission
($17 for seniors/students/military/kids 5-17)
Can't Look Away exhibit is recommended for ages 13+