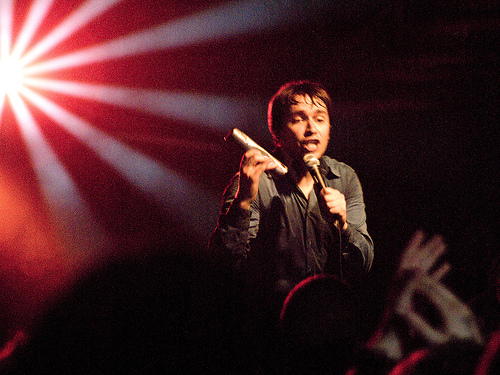 It's rerun week for late night hosts this week, so we get to relive some of our favorites of the past few months (their original run dates noted with an R below). The landscape is littered with political (albeit interesting) candidates this week, but don't fear 'cause next week we're getting a couple of really exciting musical guests:
***Tuesday, May 29***
Sen. Barack Obama (R 4/9/07) on LETTERMAN
Sen. Joseph Biden (Go Delawareans!) (R 3/22/07)on LENO
Howard Dean (R 5/16/07)on the COLBERT REPORT
***Wednesday, May 30***
Dr. Phil McGraw (R 5/10/07) on LETTERMAN
Al Gore (R 5/24/07) on THE DAILY SHOW
***Thursday, May 31***
Peter Bjorn & John (R 5/18/07)on LENO
Black Rebel Motorcycle Club (R 5/2/07) on JIMMY KIMMEL
***Friday, June 1***
Modest Mouse (R 5/1/07) on LETTERMAN
Sanjaya Malakar, OK Go (R 4/19/07)on LENO
Sarah Silverman (R 5/16/07)on JIMMY KIMMEL
Next week we can look forward to a couple late night performances by Bright Eyes, Patrick Wolf and more!