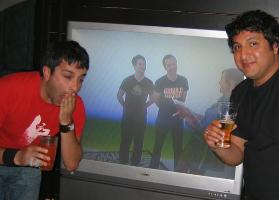 As the only imaginary girl with cable and a VCR (let's not talk about how many), sometimes I feel it is my duty to let my friends know if there's something notable on… like the time Bright Eyes (who?) was on Austin City Limits. If that isn't newsworthy, I don't know what is.
So, in case The Shins or LCD Soundsystem are your Bright Eyes, I figured I should take this moment to make your day.
If you're interested… here's some stuff worth setting the creaky VCRs for over the course of the next few days:
Wed, April 11
LCD Soundsystem on LETTERMAN
Thur, April 12
Of Montreal on CONAN
Fri, April 13
Lily Allen on THE TODAY SHOW
The Shins on LENO
Joseph Arthur on CONAN
Mon, April 16
Lily Allen on LENO
(Luke Wilson is also on that night… maybe he'll mention something about brother Owen?)
Tue, April 17
Silversun Pickups on JIMMY KIMMEL
(Paul Reubens is also on that night… in case you're still mesmerized in his Paul vs PeeWee history)
And who else is comforted knowing that super-rad Tim Gunn is definitely going to be on next season's Project Runway?! Also of note, Gunn is also working on his own Bravo series, Tim Gunn's Guide to Style.