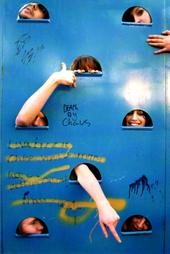 I'm having a hard time containing myself this morning with all the new music fluttering around. Here's the new stuff that's rocking my world today:
Los Campesinos! Thank you Curt from Magic Marker Records for highly recommending them to me!!! They may have cool-international-sounding name, but the band is actually from Cardiff, UK and sing the sweetest, most enthusiastic wonderful songs I've heard in a while. They've got handclaps, glockenspiel, violin and all things indie-pop to make me grin from ear to ear. Really, I'm not exaggerating. They're so nice they even have their whole EP (including cover art) available for download on their website. If you don't feel like downloading anything, you can hear the songs on their MySpace page. Is there a petition I can sign to bring them to the Pacific Northwest? Viva Los Campesinos!
Your Favorite Book! Take a read of the review if you want to more about why I am so enraptured by the cd or go listen to a couple of their songs (although my favorites are still only available when you purchase the cd). In the review I left out how delightfully DIY the cover art is… with its hand crayola-colored plaid overcoat on a cute lil piggy (an artful depiction of the album's title, Scotch Hog). It's almost like YFB knows that my third favorite color is plaid!
And I haven't even mentioned the fact that tonight I'm going to get to hear the new Idlewild and Jarvis cds (thanks for running to the record store for me igDana!). I'm actually sort of proud of myself that I didn't make her put the telephone up to the stereo speaker when we were on the phone last night. That kind of behavior would have been too much… right?