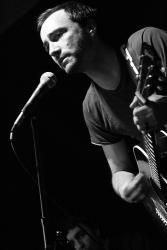 Interesting news came in my inbox from Aversion: the Shins are seeking to self-release their next record instead of releasing through their longtime label, Sub Pop. According to the article, the Shins haven't completely ruled out working with Sub Pop, but are looking for a "partnership plan" too:
The band's manager told Billboard that the act was looking to establish a distribution and marketing deal with a larger label to distribute its next album through singer/guitarist James Mercer's Aural Apothecary label.

The band hasn't ruled out working out an arrangement with its longtime label, Sub Pop, though is shopping around for a partnership deal.
Hmm. I've been very curious as to why the Shins have yet to be added to the SP20 roster, and perhaps this explains it? It does seem like a snub, not having the Shins at the Sub Pop 20th anniversary party, though now I'm not sure who's snubbing who…?
Either way, I hope they all get over it and the Shins play the big SP20 showcase in July. It wouldn't be the same without them, in this imaginary girl's opinion…