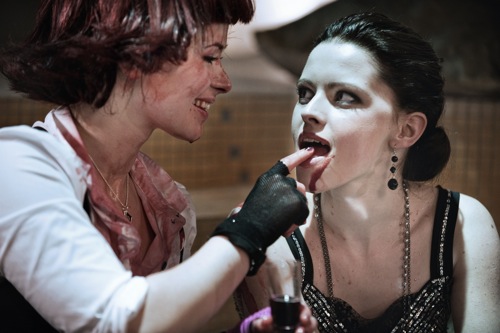 Well, it's OVER once again! SIFF 2011 was a whirlwind of great films, Q&As, gabbing with other film nerds, happy hours, and parties. I'm sad it's over, but like most SIFF fans, I probably need a break before it starts all over again next year. In total, I saw 26 films (which honestly pales in comparison to say, Imaginary Rich, who is probably somewhere near 80), but there was so much goodness that I was able to pick ten favorites.
Watch for these to get locally-released, on demanded, or DVDd: 
A Cat in Paris: An awesome kitty cat named Dino lives a double life on the rooftops of Paris traveling between two houses: one, a police officer and her daughter, and other a crafty cat burglar. Beautiful animation, a swingy retro jazz soundtrack, and a funny/moving story. LOVED, loved, loved this.
Beginners: (this one is playing right NOW at The Harvard Exit!) Both quirky romance and a love letter to family, this one manages to be touching without being cloying. McGregor, Laurent, and Plummer all rock it – and the dog adds just the right touch of cute. 

Late Autumn: A woman let out of prison for 48 hours to attend her mother's funeral and a gigolo who's on the run from a customer's angry husband connect when they run into each on the bus. Depressing? Sure. But lovely all the same, plus lots of great Seattle scenery.
Life in A Day: A collection of video clips culled from over 40,000 hours of footage all recorded on the same day in 2010. Gauranteed to melt even the hardest hearts, this is one of those things that shows you that ALL people around the world everywhere share the same hopes, fears, and dreams. (and yeah, I cried).
Poupoupidou (Nobody Else but You): Being kind of a Marilyn Monroe freak myself, I was skeptical about this tale of a murdered young cheese queen who thought she was the reincarnation of the iconic screen goddess. But! It was stylishly executed and twistily well-done with extremely likable characters and extremely despicable villains. Hitchcock would approve, I'm sure.
Roadie: This doesn't even sound like something I'd like, but it's a fantastically-acted character piece with an amazeballs performance from Ron Eldard as a 40-something fired Roadie who's forced to return home to the life he tried so very hard to escape – so uh, it won me over.

Trigger: If you're down with talky, play-like narratives, this one's for you. Molly Parker and the late Tracey Wright play two ex-bandmates who meet up 10 years after their fame & glory years to discuss a reunion, their past addictions, and the hurt they caused one another. Bonus: catch-up on some rockin' Toronto bands during the club scenes.

The Village of Shadows: Two carloads of friends head to vacation in a tiny French town, but when they get there, four of them immediately disappear and they're thrust into a ghosty game of cat-and-mouse. I'd like to see The Ring's Sadako do battle with the kid in this one – it would be EPIC.
We Are the Night: Three lusty female vampires set up a rave club in Berlin to lure willing victims in, but everything goes haywire when they invite a sexy new recruit to join their clan and she falls in love with a human cop. Watching these girls drain men of their blood and leave splatter everywhere was the most thrilling vamp action I've seen in awhile. Viva la German fangs!
The Whisperer in Darkness: These Lovecraft guys are SERIOUS about authenticity, which is why they made this film in the era it was written to reflect the tone (perfectly, I might add). Part film noir, part B-sci-fi, this was done so well you'd almost swear it was actually filmed in the 30s. If there's even a bit of you that's curious about this, I highly recommend.