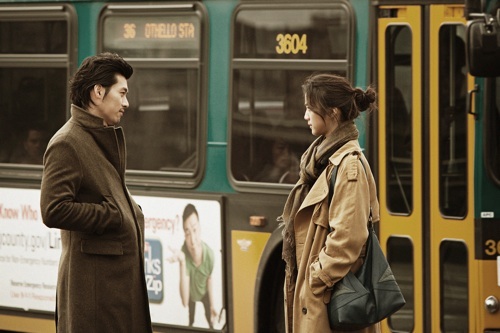 Man oh man. The Seattle International Film Festival's Northwest Connections showcase ALWAYS thrills me, as I love to see what innovative NW filmmakers they've picked from the talented submitters, as well as who shot films here, and what I can recognize in them. Here are few top picks from the long, long list!
The Catechism Cataclysm apparently involves a priest on sabbatical and a pair of Japanese tourists recreating the river journey in Huckleberry Finn (what the), it's been gaining steady word-of-mouth for massive hilarity, and was produced by Seattle-based filmmaker Megan Griffiths—who also directed Sundance favorite The Off Hours (which is here in the NW Connections program too). And Late Autumn follows a pair of ill-fated lovers through the streets of Seattle.
WWU graduate, poet, photographer, songwriter and filmmaker Caleb Young directed the touching Do You See Colors When You Close Your Eyes? about coping with family tragedy, and horror-master John Carpenter hauled his cast & crew to Eastern WA in order to shoot his first film in nine years, The Ward: a spooky atmospheric tale about a woman in a haunted asylum. Also filmed in Washington is Marrow, a psychological thriller that frankly, looks all kinds of MESSED UP, and Without—a haunting debut from Seattle native Mark Jackson, set on Whidbey Island. And then of course, there's Treatment: the directing debut of our own beloved Sean Nelson (co-directed with Steven Schardt), about an LA filmmaker who lies about addiction to check himself into rehab in order to land an A-list actor being treated there. Nelson also has a role (+ a bit part in The Off Hours! That guy is all over the place…), and we know he'll light up the screen. Treatment also has a score by Robyn Hitchcock!!!
NW Documentaries include Holy Rollers: The True Story of Card Counting Christians, in which we learn how Seattle-based Churchteam reaps serious profits from casinos for the lord (how did I NOT know about this before?), How to Die in Oregon about a woman's choice to end her life under OR's Death with Dignity clause (bring some tissue, folks), and A Lot Like You, which follows Seattle filmmaker Eli Kimaro back home to Tanzania as she uncovers some long hidden family secrets (yeesh. Mebbe go to Costco and stock up on a palette of Kleenex). In addition to all these and tons more, there's a package of shorts called Seattle Stories to get through, which covers everything from buskers and street artists to retinas (ew).
Huzzah! Support local filmmakers by getting out to see at least a few of these during SIFF's 2011 run.
Photo from: Late Autumn