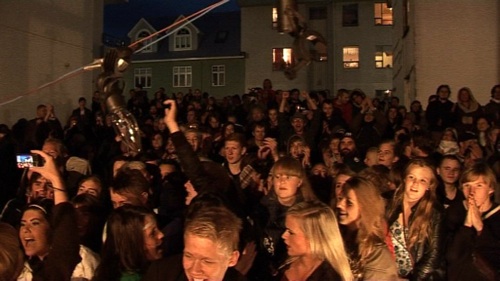 It goes without saying that most of us imaginaries get more PSYCHED about the Seattle International Film Festival's Face the Music program than anything else at the fest. There's always a ton of great films and events that feature music, from documentaries to re-imaginings of a famous musician's life.
This year, there are quite a few that we're excited about. Backyard is a story about a guy that wanted to put on a small show for his friends with bands he was truly passionate about that grew into kind of a big deal. This intimate doc showcases Reykjavik's up-and-coming indie music scene. Hit So Hard details Hole drummer Patty Schemel's tumultuous life—reportedly including some never-before-seen video of Kurt and Courtney—while Who Took the Bomp? follows electro-pop group Le Tigre (YAYYYYY!) on tour from 2004-2005.
Over on the fiction side of things, Mario Van Peebles' latest: Black, White, and Blues, takes us on a road trip with a bluesman hoping to recover his mojo, Funkytown details late-70s disco debauchery, and Killing Bono tells the story of two brothers in a band hoping to break into super stardom in late 70s Dublin, but get eclipsed by another fast-rising band called U2 (yup, it's that Bono). Roadie is about a middle-aged dude who doesn't know what to do once his dream job hauling gear for Blue Oyster Cult (!!!) ends, and Surrogate Valentine is a sweet tale about a San Francisco musician (Goh Nakamura) teaching a musically-challenged TV star how to play—and also features some great Seattle scenery. And of course, I have to mention Moulin Rouge!, in which Ewan McGregor makes me all swoony by singing mashed-up 80s and 90s tunes in the most adorbs way possible. 
Once you've had your fill of cinematic glory, grab a date and head to The Triple Door to see Damien Jurado and the Russian Avant-Garde, wherein one of TIG's favorite singer-songwriters provides a unique soundtrack to Russian filmmaker Dimitri Kirsanoff's shorts. For those that crave some down-home gritty folk music, the musicians behind the music from Winter's Bone are performing live, and you can also indulge in what is sure to be the trippiest event at SIFF this year—Douglas Fairbanks' 1924 silent film The Thief of Bagdad, married with the music of E.L.O. (that's Electric Light Orchestra, kids) by popular DJ Shadoe Stevens (um. what).
Basically, the Face the Music program this year rocks as hard as always, and there's plenty to see for music-lovers of every genre. Make a schedule of your must-sees, buy some tix, and go go go!
Photo from: Backyard