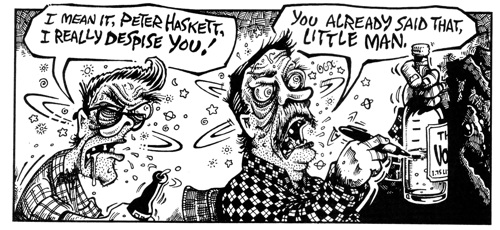 Usually "outsider art" begins consensually. Sometimes people find a certain enjoyable quality about something crafted by people a bit off the grid, perhaps in a variety of ways. The desire to experience extremely altered points of view vicariously can have many reasons, one of them being identification with either the creator or the subject of the work. In this case,  it could mean moving into very affordable housing, being thankful but perhaps confused for the low rent, and then realizing you're paying so little for your new abode after hearing your neighbors for the first time. If you can more than sympathize with such a plight, this pitch-black humor wince-fest documentary may be for you.
Shut Up Little Man! is a cottage industry based on overhearing a wallowed-in Schadenfreude. It begins in 1987, when two art-punks move to San Francisco and into the horrid-pink "Pepto Bismal Palace," where they find they have to sort of make artwork out of the damage that's being done to them, to stay sane. Listening to Peter and Raymond, their alcoholic neighbors, fight in the most horrible way every night. It may not sound like entertainment, but these inebriated, sexually deviated co-dependents really know how to charge up each other (and everyone within the vicinity having to listen to them). They're the kind of fellow tenants you hide from when you take your garbage out, for fear they'll either scream at you too or that you will punch them for the hell they're making of your life. Thus, empowerment by poor people with a tape recorder who helped create the idea of the human meme in the shitty 80s.
I haven't actually seen the movie based on this legendary underground story yet, but I've heard it all many times. Literally. There has been many tapes of their arguments released for public consumption, an excellent "greatest hits" CD, and I've read the comic book based on the two young roommates (at first surreptitiously) recording the other two roommates next door. (It all begins in the closet, appropriately enough.) If you see this during SIFF and just crave to hear more verbal abuse between Peter and Raymond, MP3s from the compact disc anthology can be purchased at Amazon. My favorite "tracks," which I used to play on my boombox when I worked at Tooth & Nail (and goes some ways in explaining why I'm no longer employed there, probably): "You Wanna Stick Me With That Fork?", "Someday I Will Kill You," "What Did You Do During The War?", "Don't Call Me Goodnight!", "I Know How To Use Any Weapon," "You Don't Have Any Friends," "A Liar, A Cheat, And A Thief," leading up to the most awesome album epilogue ever, "If You Wanna Talk To Me, Then Shut Your Fuckin' Mouth."
If this all strikes you as an exploitative, classist, homophobic inside joke among wanna-be hipsters that shows exactly where things have gone wrong with our debased culture, I wouldn't argue. Like black metal, the films of Michael Hanke, or really rank reality television, its artistic merits are debatable. Morally and ethically, it's probably indefensible to enjoy it. But for those of us who have been trapped within the psychodramas of those living near us or who demand we participate, and wished for some way to turn the whole thing around into some game we could enjoy, some way to find pleasure in the selfish self-destruction of sociopaths who have lost the plot, Shut Up Little Man! is subversive catharsis. Ironically best enjoyed with a pint of very cheap vodka.
{Shut Up Little Man! An Audio Misadventure plays the Seattle International Film Festival Saturday, May 28, at 10:00 PM at the Neptune; and Monday, May 30, at 9:00 PM at the Egyptian.}