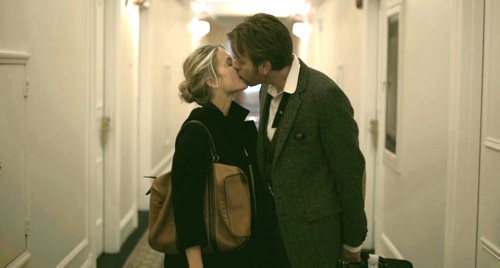 Truth: I could watch Ewan McGregor and Mélanie Laurent do anything on screen forever and be happy about it. That said, my enjoyment while watching Beginners may have been enhanced by this gorgeous duo, but a solid script involving a very personal story (Director Mike Mills based the idea on his real-life dad's own journey), and a unique way of telling that story sold me hook, line, and sinker.
The narrative flips back and forth between broody graphic designer Oliver's (McGregor) interactions with recently out 75-year-old dad (excellently played by Christopher Plummer), and a new relationship forming with eccentric actress Anna (Laurent). The result is a ton of laughter, tears, a surprising out-of-character performance by Goran Visnjic as Plummer's boyfriend, and an adorable canine with more personality that most people. WELL worth your time and money, Beginners may very well be my favorite film so far this year (and I'm not just sayin' that because I watched it as part of the Ewan McGregor tribute and got to ogle him from the top balcony of the Egyptian while I melted into a puddle of goo listening to his accented banter).
Don't miss this very well done cinematic treat! Beginners is playing one more time at SIFF Tuesday, 5/24, 4:30 at the Neptune.