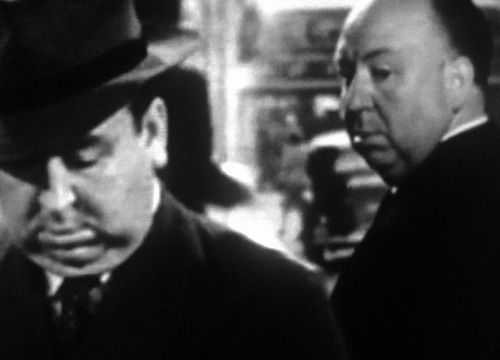 You wouldn't think that someone could make almost an entire movie from archival footage and still have it be interesting, but that's exactly what Director Johan Grimonprez has done with Double Take.
Weaving footage of Alfred Hitchcock with commercials, previews, movie spots, and interviews, the film casts Hitchcock as a man who encounters his older doppelganger (old & new footage of professional Hitchcock double Ron Burrage who shares the SAME birthday as AH) in 1962 and again in 1980.
Hitchcock's narration (actually an actor imitating him) is juxtaposed with footage of Nixon, Kennedy and Khrushchev, intertwining the paranoia of meeting your double with the paranoia of the Cold War.  Of course there are times when the "plot" seems disjointed – not all of the clips run smoothly (the repeating Folgers coffee commercials from the 60s particularly pulled me away from the story), but in the end it all works.
All I know is, I couldn't stop watching, and I couldn't wait to find out what happened. Definitely recommended.

{Double Take screens at SIFF June 4 at the Harvard Exit, 9:30pm and again June 6 at SIFF Cinema, 11am}