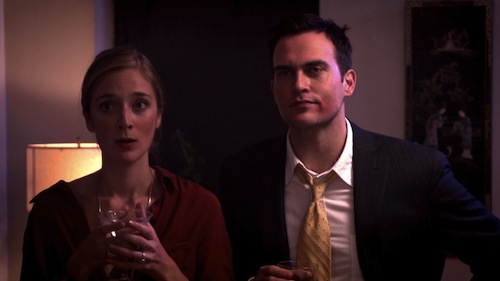 Ensemble romantic comedies aren't really my favorite, but there's something about Mutual Friends that makes the genre feel fresh.
I think that's mostly due to Caitlin Fitzgerald, who plays the confused Liv with equal parts frazzle and adorableness. Liv is engaged to Christoph (Cheyenne Jackson, who I guess used to be on Glee, but I mainly know him from 30 Rock), but she had a fling with her tousled hair-BFF Nate (Peter Scanavino), whom she may or may not sorta kina be in love with. Determined to forget about Nate and his flaky-non-commitment ways, she decides to throw Christoph the best birthday ever — but there are some complications (aren't there always?).
Christoph's ex, Annie, is in town and trying to get him back; friends Sammy & Adele are going through some rough times (mainly due to Adele getting naked in the woods with another man), Paul & Beatrice are having a baby — but Paul might not be quite ready for that; Liv's drifter brother Thomas decides to "help", and ends up decorating the party with a mish-mash of kindergarden games and terrible snacks, AND hires a stripper to bartend (OOPS); and Liv's strange ex, Cody, shows up at the last minute. Oh, and all of them are dispensed pretty solid relationship and life advice by the happiest, most together couple: the constantly pot-smoking, ultra laid-back Chernus & Lucy.
Even though the resolution for each couple is mostly predictable, there are a few surprisingly good jokes sprinkled within that don't regurgitate the same old-same old. It's a nice, light evening at the cinema that'll still provide you with room to think.
{Mutual Friends screens at the 39th Annual Seattle International Film Festival on Friday, 5/31, 6:30pm, and again on Saturday, 6/1, 3pm at SIFF Cinema Uptown}