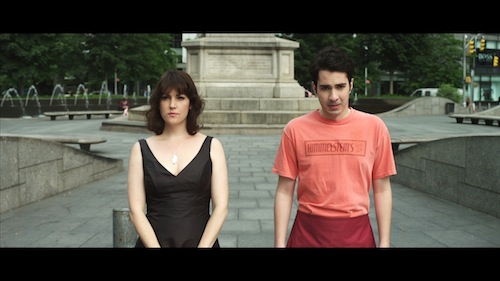 Walter Himmelstein, aka "Putzel" (Jack Carpenter, who could not be MORE perfect for this role), has grown up in a small section of the Upper West Side his entire life and has never left it. Waiting to take over his family's smoked fish deli, Putzel seems like he's constantly on the verge of a breakdown; exhibiting nervous scratching ticks, second-guessing everything he does, and in serious denial about the cumbling state of his marriage. But he's still determined to take hold of the business and make it a success.
And then two things happen that throw a wrench into Putzel's carefully composed "40-year plan": his Uncle Sid (John Pankow, who I love watching on Episodes), decides to sell the deli and move to Arizona, and an enchanting bartender/dancer named Sally (Melanie Lynskey, please just marry me already) waltzes into the deli one day, managing to capture the heart of both Sid and Putzel.
There's plenty of hilarious moments in this film, including the most-awkward dirty talk-sex scene I've ever seen, and the best cameo from Fran Kranz EVER (Hello, my name is Salmon). It's an adorable romantic comedy with adorable leads set in an adorable part of New York, and yes, even Director Jason Chaet is adorable (and very, very funny). It's a great film to laugh yourself silly through.
{Putzel screens at the 39th Seattle International Film Festival one more time on Friday, 6/7, 1pm at AMC Pacific Place}