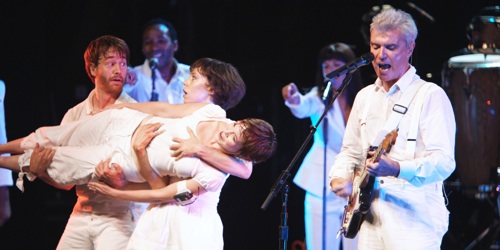 I'm not really a modern dance fan, so I admit: I was wary of watching Ride, Rise, Roar – a documentary/concert film that blends together images of The Songs of David Byrne and Brian Eno tour and short interviews with the dancers and musicians.
That said; it somehow worked. Watching those dancers move to the beat of songs I've always loved while Byrne sang and moved with them was entertaining, fascinating, and at times emotional, and also caused me to dance along in my seat.
Director David Hillman Curtis does an excellent job of pacing on-stage action with personal interviews, creating a complete picture of the tour. A must-see for Talking Heads fans, for sure.
The only question I have is this: how does David Byrne stay so cool, even when he's bouncing around the stage in a tutu? 
{Ride, Rise Roar screens at SIFF May 28, 9:30pm, and May 29, 1:30pm at SIFF Cinema, and again June 3, 9:15pm at the Everett Performing Arts Center}