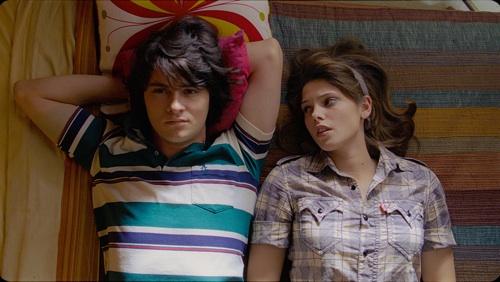 One part Dazed & Confused, two parts John Hughes: Skateland is leading the pack as my favorite film at this year's festival (so far).  Set in 1983, the movie's level of 80s detail is damn near perfect – from the Skateland rink to the clothes, right on down to the Musicland in the mall. And I'm not gonna lie: the soundtrack is AWESOME.
Would-be writer Ritchie Wheeler (Shiloh Fernandez: think young Joaquin Phoenix) is still stuck in his small town after High School graduation, managing the local rolling skate rink – but it doesn't seem to bother him all that much. When the owner announces that Skateland is being sold, Ritchie has to figure out where his life is going.
Best friend Michelle (Ashley Greene, who is a better actress in this than I could have ever realized by watching her in Twilight) and little sis Mary encourage Ritchie to follow his dreams and pursue college, while Michelle's older brother Brent mostly encourages slacking and partying.
As with all coming-of-age dramedys, it takes a few tragedies to shake Ritchie up and make him realize what's important. With an ending reminiscent of the best Hughes films (complete with a dedication in the credits to the man himself), Skateland also earns the title of the first SIFF film this year that made me cry.
My recommendation: Don't miss this one. Seriously.

{Skateland screens at SIFF May 27, 7pm and May 29, 2:30pm at Uptown Cinemas and again June 6, 8pm at the Kirkland Performance Center}