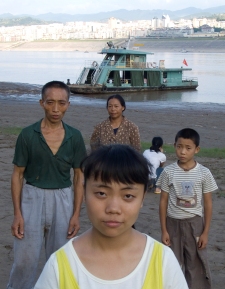 Following an auspicious opening weekend (well, not counting Battle in Seattle), my Memorial Day got off to a decidedly inauspicious start with a convoluted, drag-ass French psycho-thriller called Heartbeat Detector, starring Mathieu Amalric (of much better films like Kings & Queen and The Diving Bell and the Butterfly) as a corporate psychologist who stumbles upon some shocking connections between his employer and the Nazis. Or something. I was so comatose with boredom by the last half-hour that I'm not entirely sure.
But the wonderful documentary Up The Yangtze got things back on track. Set against the eco-disaster that is China's mammoth Three Gorges Dam project, it's a beautifully observed portrait of one displaced family, forced to abandon their home as the river rises; the teenaged daughter who goes to work on a disgusting tourist-trap of a river-cruise that caters to ignorant vacationing Westerners; and her coworkers (of varying economic backgrounds) dealing with their respective life situations. Director Yung Chang chooses poetic sadness over righteous indignation in expressing some shocking class revelations, and the family's heartbreaking plight; the result is one of the best documentaries I've seen in 2008. A late composite shot — the rising river's progress as the family's former home is literally washed away — somehow says it all, and is exquisitely, unaccountably moving.
The holiday ended with a refreshingly unique, fantastically deliberate film called Milky Way. Directed by Hungarian Benedek Fliegauf, it consists of nothing more than ten lingering static shots of life on Earth: a school playground with tragedy looming next to the swingset, mountain-bikers traversing a pile of rocks, a loading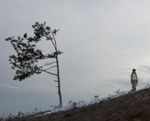 dock whose containers are full of something unexpected, a swimming pool populated with randy retirees, etc. By the fourth segment I was absolutely transfixed, and in the last few moments — a dance routine silhouetted against a dusky sky — I realized, to my great surprise, that I was overjoyed.
During the week I caught the lovely Iranian family drama The Song of Sparrows, and the less-lovely (but far more powerful) Filipino film Foster Child. The latter, about a family's final hours before giving up their adorable foster ward, brought to mind last year's equally fantastic The Bet Collector, another gripping, guerilla-style, micro-budget drama full of endlessly meandering slum alleyways and constant threats of catastrophe.
And the fictional Foster Child rang truer and more authentic than the "documentary" American Teen, a Sundance winner that purports to give a candid look at four teens in an Indiana high school over the course of a year. Slick, stagey, and completely skin-deep, it's as "documentary" as your average cable reality show. David Maysles is turning over in his grave.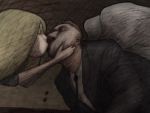 Also completely removed from reality — but far more honest about it — is Idiots and Angels. By now it's probably oxymoronic to call a Bill Plympton cartoon surreal, but this full-length one, about an unhappy and morally-bankrupt man who, um, sprouts wings and becomes a reluctant angel, surely is. It's also quite wonderful, with its artfully craggy hand-drawn animation, bizarro-comedic images and situations, and good messages about what happens when we try to repress our true natures. I still prefer Plympton's short-form animation (Eat, Guard Dog, Guide Dog), but Idiots and Angels is a big step up from his other feature-length effort (2004's Hair High) and was a great way to end my Friday.
Saturday was Werner Herzog's funny, often awe-inspiring Antarctica documentary Encounters at the End of the World, and the equally pleasing Mister Foe, a dark (often really fucked-up) romantic-entanglement comedy by David Mackenzie (Young Adam). It stars Billy Elliott himself (Jamie Bell, all growed up) as a voyeurism-prone Scottish lad who, having failed to prove that his stepmom is up to no good, abandons his family's country manor for the grittier streets of Edinburgh, where he becomes involved with a woman who bears a striking resemblance who his dead mother. Somehow Mackenzie manages to get lots of Hitchcock references into an already twisted story — there are bits of Rebecca, Psycho, Rear Window, and Vertigo to be found — and make it all work. All in all, a very enjoyable two-film SIFF day.
So who else is SIFFing? What have you seen and liked (or disliked)?
(And is anyone else as sick of the constant pre-screening stream of SIFF trailers, City Arts Magazine "shorts" and SIFF Cinema ads as I am?)