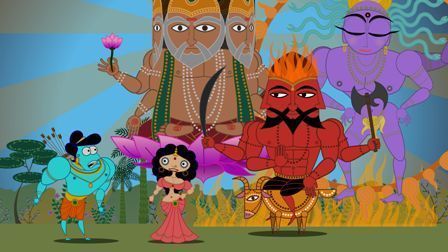 One of the biggest surprises I saw last year at SIFF was Sita Sings the Blues, an animated film created by Nina Paley. Full disclosure, I wasn't completely sold on the concept: a personal interpretation of the Indian epic the Ramayana that integrated jazz tunes sung by 20s great Annette Hanshaw. Animation + Indian fable + jazz? I kinda thought that was a recipe for disaster, but boy was I ever wrong.  
You can read my short review here – and I will follow up by telling you that I watched the screener 3x before returning it, and that I haven't been able to stop gushing about how great this movie is. But, I digress – the exciting news is that it's playing at Central Cinema RIGHT NOW:
Central Cinema
1411 21 avenue
Seattle, WA 98122  

May 14-20 at 7:00pm & 9:15pm

Buy tix online here!
And, since Director Paley has had some trouble releasing this epic on DVD, she is offering it to you, free of charge, on her site. How awesome is that?
My recommendation: SEE it! Go watch it on the big screen at Central Cinema in the next week or at home on your computer monitor – just see it.