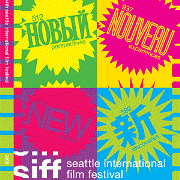 Michelle Rodriguez was inebriated on opening night! (And I mean before the "gala"!)
And that was one the two thrills I can report about SIFF 2008's first evening, the other being outgoing NWFF Executive Director Michael Siewerath's beautiful acceptance speech after Greg Nickels presented him the 2008 Mayor's Award for Outstanding Achievement in film.
Otherwise, not a lot to report. The pre-screening intro was shorter and sweeter than ever, with no (seemingly endless) all-sponsor shout-out. Various SIFF staffers and board members conveyed the usual greetings and appreciations, remaining happy and engaging all the while.
But, for me, it was La Rodriguez who stole the show. As she came out on stage with fellow Battle in Seattle cast members Charlize Theron, Andre Benjamin, and Martin Henderson, and director Stuart Townsend, I whispered to my date, "I bet you anything her ass is drunk." To which came the reply: "I didn't know she was allowed to leave Hawaii!"
Oh, the film itself? Better than I thought it'd be… but still not too great. I'll grant that it has its moments — mainly the startling riot images and a few good performances — but intimate 1-on-1 dialogue is stilted at best, and ridiculous at worst, and a few plot details make zero narrative sense. Battle in Seattle is not big on subtlety, but boldfaced agitprop rarely is; director Townsend is obviously dialed into the threats and terrors of globalization, and I appreciate (and share) his convictions. But passion alone doesn't make for a good movie.
Back to Michelle Rodriguez. I only stayed for the first few minutes of the post-film Q&A, and I wish I'd been recording it so I could offer you some direct drunken quotes. Horrifying and delightful. The same can be said for the opening night "gala" afterward — minus the delightful. They had the nerve to charge for drinks this year, there was one food area in the non-VIP Exhibition Hall (which meant a line snaking around the joint which wasn't worth anyone's time), and there was just a general sense of lameness to the proceedings. I felt lucky to grab a bottle of Vitamin Water, a tiny Cupcake Royale, and a piece of too-rich chocolate cake (the latter two at the VIP party upstairs, into which my date and I successfully snuck). Ten minutes and we were outta there.

But back to the point of SIFF, and to the horrifying and delightful: Vexille, a gorgeous and well-crafted Japanese sci-fi CGI about a near-future Tokyo devoid of all but hints of human life, was my first post-Opening Night screening, and a heart-stopping start to SIFF proper. Also on Friday was The Edge of Heaven, the latest from Turkish Emerging Master Fatih Akin, about a young professor, his cranky drunk of a father, a dead prostitute acquaintance's missing daughter, and the confused mother of said daughter's lesbian lover. Akin (Head-On) is a major talent, and he has made another elegant and moving shell-game of a film, despite a couple unnecessary scenes and a tad too much "they just missed each other!" coinky-dinky-ness.
The coinky-dinks in Anna Melikyan's wondrous Mermaid, which I saw on Saturday, are often propelled by Alice Hoffman-esque magical realism. The charming fairy-tale story, which follows introverted young coast-girl Alisa's coming-of-age in Moscow, is full of gorgeous setpieces and candid insights on love, materialism, and modernity. A true delight, and the loveliest Russian film I've seen in recent years.

If only Boy A, another fresh-start story about a youth in a new city, were as hopeful and well-plotted and alive. (Also in the good-not-great file are the depressing Finnish male-prostitute drama A Man's Job and the clumsily plotted wannabe-Hitchcock tale Transsiberian.)
I really liked Lance Hammer's Sundance-winning, Mississippi-set family drama Ballast, but ended up angry at myself for yielding to the temptation to see French provocatrix Catherine Breillat's latest, The Last Mistress, starring Asia Argento as a Spanish courtesan-cum-temptress in 19th-century Normandy. In keeping with much of Breillat's work, this one's a poorly-executed snooze, though definitely not as punishing as 2004's Anatomy of Hell. Ugh.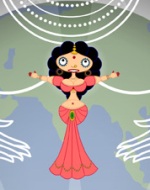 Sunday began with an animated film about which I have no reservations calling a masterwork: Nina Paley's Sita Sings the Blues, a fabulously postmodern adaptation of ancient Indian epic The Ramayana. The source is one of the world's greatest and oldest breakup stories, and Paley, who did all of the animation herself, manages to weave in her own tale of heartsickness… along with musical numbers (animated to the sounds of 1920s jazz artist Annette Hanshaw), eye-popping narrative interludes, and a humorously candid retelling of (and argument about) the Rama/Sita legends. If it sounds crazy, it is, and brilliantly so. With its amazing energy and gorgeous meld of animation styles (CGI to 30s-era Betty Boop to Asian silhouette to rough hand-drawn scribbles), Sita Sings the Blues is surely one of SIFF 2008's true great treasures.
Also that day was Opium: Diary of a Madwoman, which turned out to be just as uniquely unpleasant (but still pretty good) as ChrisB reported in his full review.
A few of the films on tap for me in the coming week: Spanish animation Nocturna, French psycho-thriller Heartbeat Detector, Iranian country-vs-city drama The Song of Sparrows, and Filipino adoption yarn Foster Child.
Much more to come from ChrisB, Roxie Rider, and me as the SIFF 08 trudges on!