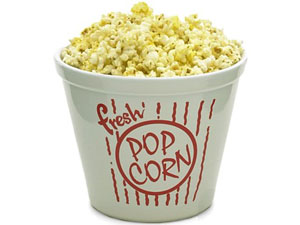 Tuesday, following the 4:30p screening of Manufactured Landscapes at Pacific Place, my SIFF companion for the afternoon — we'll call her "K" — asked me: "Why do we always end up sitting in front of people who feel they have to make noise?"
Good question. There were plenty of overly dramatic sighs and whispered "wow!"s at Edward Burtynsky's gorgeous photographs of otherwise ugly industrial vistas. They're images that inspire awe, though. Not noise.
And on opening night, last Thursday, "K" happened to be seated directly in front of some very vocal constant-commenters during Son of Rambow. (I was a few spots down the row.)
While SIFF audiences are generally better-behaved than non-SIFF ones, there's still a good amount of gasping, grunting, and goodie-unwrapping to be heard. Even during the off-the-grid press screenings, where I've taken to asking one frequent offender whether he plans to rattle his plastic bag full o' snacks, then making my seat choice based on his response. The less profound noise doesn't faze me as much these days (I'm numbing to it, I suppose), but it's driving my SIFF dates crazy. A definite paradigm shift.
My movie-going pet peeve, and one that I'll never not be irked by, is the completely unnecessary open-mouthed popcorn-crunching. It's as if people feel the need to prove to themselves — and everyone in earshot — that they're enjoying their pricey buttery kernels by making as much noise with them as possible. And it always seems louder (and more frequent) during the slowest, quietest, most contemplative films: last night at the Harvard, someone somehow made their corn last throughout the entire first half of Tsai Ming-Liang's brilliantly hushed I Don't Want to Sleep Alone. Grr.
Any pet peeves or fun audience stories — good or bad — from you other SIFFers?