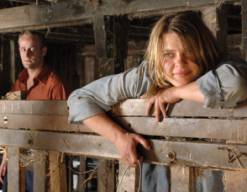 My past three days of SIFFing have included a docu-bio on one of my favorite filmmakers (Still Alive: A Film About Krzysztof Kieslowski), some hot Korean quasi-softcore (No Regret), and a sick-n-wrong comedy by David Wain and the State folks (The Ten). But the biggest deal by far is yesterday's screening of the brilliant, heartfelt, masterfully produced German film Emma's Bliss, which is my favorite of the 60ish films I've seen at SIFF '07 thusfar.
The titular heroine (played to perfection by stage/TV actress Jördis Triebel, amazing in ways you're just never quite prepared for) is a churlish, wise, salt-of-the earth pig breeder on a remote patch of land surrounded by some gorgeous countryside. And Emma is a complete badass. When she isn't using a double-barrel shotgun to chase the law off her property, she's humanely slaughtering hogs, single-handedly managing her deep-in-dept family farm, and getting special thrills from her daily motorcycle rides.
Elsewhere, city-boy mechanic Max (Jürgen Vogel, also great in German Spotlight film A Friend of Mine), recently diagnosed with fatal pancreatic cancer, has decided to skip town and live out his last days in sunny Mexico. But he doesn't quite make it there, because after a Hitchcockian series of events he finds himself in an overturned car on Emma's farm… along with a tidy sum of cash he's pilfered from his crooked employer.
That's the first ten minutes or so, and don't expect the rest to be Lifetime-romancey: the remaining hour and a half holds a remarkably unpredictable love story (simplistic urban vs. rural paradigms bedamned) that is as sensuous, down-to-earth, and just plain good as anything I've seen all year. Sophomore feature director Sven Taddicken utilizes his luminous actors, along with Daniela Knapp's stunning 35mm images, to convey truths and emotions wholly outside of time and locale. They hurt, they sneak up on you, and it's all completely wonderful.
You have one more chance to see Emma's Bliss at SIFF '07 — this Sunday (6/3), 4:15p, Egyptian. Check it out before the inevitable American remake jacks it up beyond recognition. Have the mini-Kleenex handy, too — and don't think you'll only be needing 'em at the end.