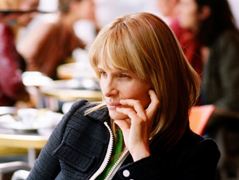 So is everyone ready for SIFF? Have you read ChrisB's extensive festival preview, Amie Simon's informative ticketing 101 post, and team TIG's early film coverage?
I'm sure you have, but you may still be wondering what exactly to do come Friday, after the Opening Night floodlights have cooled and the festival gets underway in earnest. If it helps, here are a couple of embracey-certified recommendations for opening weekend, followed by previews of a few films I haven't seen yet but which are almost certainly sure-fire winners.
Summer Hours (5/22 SIFF Cinema; 5/24 Uptown)
Juliette Binoche is in this, sporting a nifty blond 'do, a sassy active-chic wardrobe, and that unmistakable, otherworldly, can't-miss Binochiness that makes her her. OK, I realize that may not be enough to convince everyone, so here's the gist of the story: three successful grown siblings (La Binoche, Charles Berling, Jérémie Renier) must divide up their late widowed mother's high-value art collection (and a fortunate lifetime's worth of bric-a-brac) in preparation for selling the family's lovely country home north of Paris. And really that's the long and short of the plot, but director Olivier Assayas' (Demonlover, Clean, Boarding Gate) gentle, sun-kissed family drama is a definite keeper. As the siblings work through their disagreements, and their own personal shit, the film's reflective tone and stretches of contemplative calm take on depth and richness, all without the characteristic mindfuckery of some of Assayas' other efforts. In experiencing Summer Hours, one gets some wonderfully tender insights on love, generational bonds, and the loss of childhood, all leading to a sweet, luminous culminating scene that you don't want to let go.
The Cove (5/24 Egyptian; 5/25 Neptune)
Compelling from its night-vision opening frames, this Sundance-fave documentary serves as both a searing exposé of Japan's dolphin trade and an intriguing profile of activist Richard O'Barry, who is — get this — the man who captured and trained the five dolphins that played Flipper. Since Earth Day 1970, O'Barry has sought to free captive dolphins that were viable candidates for captivity at Sea World and other dolphinariums, which contribute to a multi-billion-dollar industry and a horrible marketplace side-effect: more than 73k dolphins are slaughtered every year. O'Barry gets a ragtag Ocean's-Eleven-style team together (an ILM employee, device experts, pro divers, a National Geographic photog) to expose some truly ghastly (and definitely not-for-the-squeamish) goings-on in Taiji, Japan. It's not always pleasant, but don't think The Cove is all Debbie Downer: there's some gorgeous underseas footage, a big dose of corporate intrigue, some government cover-ups, murder allegations, and great exposés of various shady shenanigans. The payoff is not as huge I'd have liked — there's one Japanese bureaucrat in particular due for some serious comeuppance that never quite materializes in a satisfying way — but it's great to see props given to dedicated folks who aren't afraid to risk everything for their cause.
I'll see you in queue for these:
Can Go Through Skin (5/22 Pacific Place; 5/24 Uptown)
I missed this buzz-heavy Dutch film at last month's New Directors / New Films showcase in NYC, so I'm thrilled to be able to catch it at SIFF. The story involves a socially-conscious IT worker named Marieke whose up-with-people life outlook is shattered after she falls victim to a brutal assault. She leaves Amsterdam for the Zeeland countryside and a new start in the solitude of a dilapidated farmhouse (which she takes on as a long-term renovation project). During her recovery, Marieke gradually opens up to a new neighbor as her sanity continues to teeter on the edge. Director Esther Rots is best known for her short films, and by many accounts this feature debut is a promising one: the Village Voice calls it "a well-wrought entry in too-close-for-comfort cinema."
And if that seems to heavy/laborious for Memorial Day weekend, how about…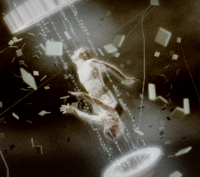 The Immaculate Conception of Little Dizzle (5/23 SIFF Cinema; 5/24 Egyptian)
I love the animated short films of local director David Russo (Populi, Pan with Us, I Am [Not] Van Gogh), and I'm hearing that his debut feature is truly one-of-a-kind. After protagonist Dory is fired from his corporate job, he's forced to take a "brown-collar" position cleaning office toilets with a pack of janitorial misfits who make the most of their nights by helping themselves to whatever goodies the daytime office staff leave behind. They unwittingly become the subject of a product-testing experiment by one of the companies in the building… and begin to experience some very unusual side effects. It sounds crazy and great. Paste magazine calls Russo's direction "dazzling" and the film "a pure unalloyed delight."
Morris: A Life With Bells On (5/23 and 5/24 SIFF Cinema)
This British mockumentary is a favorite of this year's festival programmers. I know nothing about the folk dancing style known as Morris, but evidently it's real and it involves hanky-waving and bearded men and staffs. This comedy promises to expose its politics-laden, ultra-competitive side as it follows a troupe called Millsham Morris, and its avant-garde leader Derecq Twist, in their pursuit for Morris perfection. Eventually it all sends Derecq on a global trek through tragedy and triumph which gravely tests his life's passion. Yeah. Actual Morris dancers will be performing outside SIFF Cinema in full garb to greet festivalgoers on Saturday.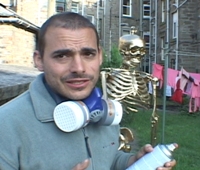 The Yes Men Fix the World (5/22 and 5/23 Neptune)
If you don't already know the Yes Men (Andy Bichlbaum and Mike Bonanno), it's time you got on board. They're subversive liberal hoaxsters who regularly practice "identity correction": pretending to be spokespeople for prominent organizations, creating fake websites similar to those owned by said organizations, and accepting invitations to appear at high-profile conferences and symposia under these pretenses. Their work confronts political and corporate greed head-on, and tends to lead to uncomfortable hysterics — in the past they've convinced college students the McDonald's hamburgers they're eating are made from repurposed human waste, modeled for a WTO trade group a "business suit of the future" (complete with enormous phallic appendage that allows its wearer to see a computer monitor at eye level at all times), and led the Barbie Liberation Movement (switching Barbie and GI Joe voice boxes… pre-sale). In this outing, they're taking on Dow Chemical
's failure to properly deal with a tragic factory explosion in Africa, impersonating a H.U.D. director to help solve the post-Katrina New Orleans housing crisis, and distributing a special edition of The New York Times (dated July 4, 2009) featuring articles about things that should be happening in the world. The Yes Men Fix the World is sure to be blatantly left-wing, government-critical, and anti-corporation. If you're ok with that, well, I'll see you at the Neptune.