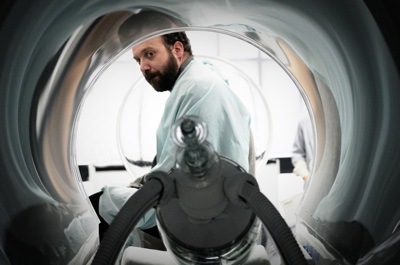 A comedy that makes you think as much as it makes you laugh is hard to come by, but Writer and Director Sophie Barthes has produced one that's nearly flawless for her first feature film.
In Cold Souls, Paul Giamatti plays a fictional version of himself who's getting ready to star in a production of Chekov's Uncle Vanya. In the midst of rehearsals, he experiences an existential crisis. Fortunately his agent points him to a possible solution: Soul Storage. For a fee, Dr. Flinstein (David Strathairn) will remove your soul and deep freeze it for as long as you want.
Skeptical at first, Giamatti agrees to try it, only to find that without his soul he has no purpose or direction – his wife (Emily Watson) even claims his skin "feels different". Renting the soul of a Russian Poet allows him to play Vanya to perfection, but when he tries to get his soul back, he discovers beautiful soul mule Nina (Dina Korzun) has smuggled it back to Russia to be placed in her boss's wanna-be actress wife.
Clever and contemplative with excellent performances all around (if this wasn't written for Giamatti, he sure sells it like it was), I enjoyed this movie so much I want to see it again and again so I can continue to decipher its multiple layers.
{Cold Souls screens at SIFF Monday, June 8 at the Harvard Exit, 7pm and again on Wednesday, June 10 at 4:30pm. Director Sophie Barthes and actor Paul Giamatti are expected to attend both screenings.}