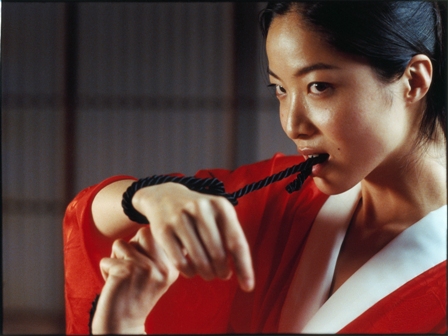 I'm sure when most people think of Director Barbet Schroeder, they think of Barfly or Reversal of Fortune. I, however, always think of the kitschy, over-the-top Jennifer Jason Leigh ham-fest Single White Female (which I find to be hilarious – how can you not love death by stiletto?). That said, Inju probably has more in common with SWF than other Schroeder films.
Based on a novel by Japanese writer Edogawa Rampo, Inju, the Beast in the Shadow, tells the tale of two crime novelists in fierce competition: famous Japanese writer Shundei Oe (whom no one has ever seen) and cocky French newcomer Alex Fayard (Benoît Magimel). When Fayard comes to Kyoto to promote his new book, he falls for beautiful geiko Tamao (Lika Minamoto) and becomes absorbed in a classic game of cat-and-mouse with the unstable and violent Oe.
Combining a heavy Film Noir influence and some S&M erotica, this film is fun despite its predictability with an equal number of laughs and excitement. The audience last night seemed into it – even if they weren't taking it too seriously. I also have to admit: the cinematography is gorgeous. My only "huh?" moment was during one of the erotic scenes…and that's all I'll say about that.
As a side note: Schroeder was simply adorable during the Q&A. You can tell the man just loves to make films, and that he'll continue doing so for as long as he can. Even if you're not interested in the movie, it'd be worth catching the next SIFF (June 6) screening just to see him.
{Inju, the Beast in the Shadow, screens again at SIFF on Saturday June 6 at Uptown Cinema, 1:15pm and at the Cinerama on June 12 at 4:15pm. Director Barbet Schroeder is expected to attend June 6 screening.}