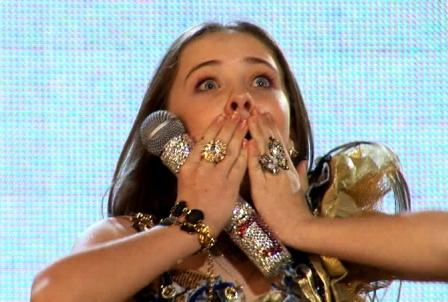 Like Pop Star on Ice, Sounds Like Teen Spirit: A Popumentary is 1) a well-done reality-show-style doc with pop entertainment value to spare, and 2) an irresistibly fun SIFF entry we weren't able to tell you about before all the Seattle screenings had happened.
The film follows several ridiculously talented European kids competing for the top prize at the Junior Eurovision Song Contest. And in case you didn't know, Eurovision is a huge deal across the pond — for the junior version, 17 countries participate, each sending one representative singer/songwriter aged 10-15 to the annual finals competition in Rotterdam.
The entrants' work is as great and as awful as you imagine. But I defy anyone who sees Teen Spirit NOT to not fall head-over-heels for some of these young'uns. Especially Mariam, a big-voiced girl from Georgia who has national pride to spare, and Giorgos, a kid from Cyprus who is picked on at school for his gay ways and his big dreams. Then there's Belgian group Trust, whose song I admittedly found catchiest and whose cute (and hormonal) 15-year-old members are all total charmers.
In his first feature documentary, British director Jamie Jay Johnson follows these and other kids from their national finals to the big night: a live, televised, cross-continent production with extravagant, garish, cheesy sets… just like it'd be in America, except there's no big-money reward, no pushy parents, no bitchy divas-in-the-making, and (almost) no camera-hogging narcissism. Just kids propelled by their own talent and ambition. Seriously enchanting.
If you live on the Eastside, or think you might find yourself there next Sunday, or if you just like happy and colorful music docs about Europe and/or teens, buy some tickets and get yourself to the Kirkland Performance Center 6/7 at 4p. Don't let the unfortunate title deter you — this film is an absolute delight.