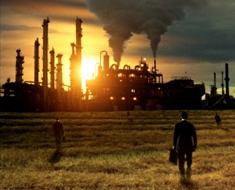 Another weekend, another batch of SIFF suggestions. Here's one I've seen, and four I haven't (but feel confident recommending).
I saw and liked:
Food, Inc.
(5/30 and 5/31, Egyptian)
If you've read Eric Schlosser's Fast Food Nation, or Michael Pollan's The Omnivore's Dilemma, or if you've seen documentaries like Our Daily Bread and The Future of Food and even King Corn, a lot of the info in Food, Inc. may seem redundant. As you might expect, the film's information damns fast food, the meat industry, factory farms, corn overproduction, GMOs, and our regulatory agencies' collusion with all that business, but filmmaker Robert Kenner colorfully and effectively distills these bitter pieces (and a few sweet rays of hope) into one big, lively knock-out punch. Food-activism stars Schlosser and Pollan are interviewed at length, as are a host of food producers and others affected by the current state of affairs, making for a more global view of the unsavory situation that is our food industry. If you've been looking for an informative doc to share with friends or family on the eco-fence, this is it — but even those in the know will likely gain something new. My biggest outrage moment arrived over the evidence presented against corporate behemoth Monsanto and its extreme efforts to monopolize soybean production. Thanks to Food, Inc., I know exactly what I can do about it.
I'll queue up for:
The Headless Woman (5/29 and 5/30, Harvard Exit)
My love for Argentine writer-director Lucrecia Martel began with 2001's dank and brooding La Cienaga, which has one SIFF '09 screening (Martel is one of this year's Emerging Masters), and continued with 2005's mesmerizing follow-up The Holy Girl. Now comes a film that I predict will divide SIFF audiences: The Headless Woman, an elliptical psycho-drama about guilt, personal responsibility, and self-deception. The story — Martel's plots are never easy to describe in a sentence or two — is about a woman named Vero who hits something (or someone) while driving. She doesn't report the incident, and her limits of perception are questioned in the aftermath or the ordeal. And, if this is like Martel's other films, there'll be plenty of scenes featuring family life in fetid, hothouse situations. Reviews have been mixed, but the positive ones have been very good; Salon calls it "a complex and devastating parable about social class in contemporary Argentina."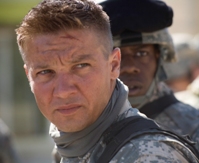 The Hurt Locker
(5/28 SIFF Cinema, 5/30 Uptown)
Filmmaker Kathryn Bigelow has had a long career in film and is probably best known for directing Point Break and Strange Days; word on the street is that The Hurt Locker is her best work to date. The "war is a drug"-themed story follows a U.S. anti-bomb squad called Bravo Company, operating from one of the more hellish corners of Baghdad. A staff addition 38 days before the end of the team's tour of duty leads to internal struggle, which leads to rebellion, which leads to what I'm hearing is one of the year's most gripping action thrillers. Time magazine calls it "a near-perfect war film". Bigelow will attend the May 28 screening.
Know Your Mushrooms (5/29 Pacific Place, 5/31 Uptown)
An in-depth investigation of the miraculous, near-secret world of fungi, conveyed by visionaries Gary Lincoff and Larry Evans as they lead us on a hunt for wild mushrooms and the deeper cultural experiences attached to them. Ron Mann, award-winning director of Comic Book Confidential, Grass, and Go Further, combines material filmed at the Telluride Mushroom Fest (yes, that really exists) with animation, archival footage, and an original neo-psychedelic soundtrack by The Flaming Lips. Sounds like a trip. If you miss the two SIFF screenings, don't freak out, man: it has a regular run at Northwest Film Forum June 13-18.
ShortsFest opening night (5/29 SIFF Cinema)
Dovetailing Amie Simon's recent ShortsFest post, I'll add my two cents by saying that over the years I've found shorts programs in general to be a safe bet; even if a film has you in agony, you're not suffering for long. SIFF recently became an Academy Award-qualifying festival for short films; the robust ShortsFest Weekend (packages screen May 29-31 at SIFF Cinema) promises to offer a sampling of the world's best. Aside from the opening night set ("a dynamically varied program examining the breezy joy and tremendous complexity of the best short films", per the program description), packages Sensory Overload, Aussie vs. Kiwi, and The Cock Collage look most promising to me.