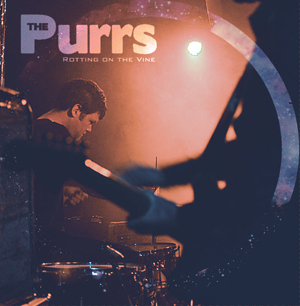 Seattle's melodic and menacing The Purrs have a new 45 single out, their first for esteemed new local label Fin Records. It arrived on this past December 4, 2012 into record stores, the mailboxes of bedsit-basement vinyl hoarders, and dingy drug fronts all over Seattle (what, you think that store on 1st just sells "hats"? Just kidding about that).
It's a limited edition, hand-numbered on clear-colored vinyl with a sweet inner sleeve, the new songs a tantalizing if speed-bitter taste of an upcoming full length. None of the packaging would matter of course, if the Purrs weren't still delivering the bad-for-you goods, and on these two tracks they do. Jima (bass and vocals), Jason Milne (guitar/backing vocals), Liz Herrin (guitar/backing vocals), and Craig Keller (drums) are like a garage band invited to play the Sweet Sixteen party of the daughter of Dennis Hopper's character in Blue Velvet; he thinks of 'em as a rock band for the kids, but any straights will be a little disturbed by the beat menace. They'll dance but make sure no one chloroforms them from behind and drags them off for black market slavery.
The A side, "Rotting On The Vine," swirls and thrashes about a young lady whose world is becoming infected with worsening paranoia, in the midst of impulsive consumption — classic '60s anti-capitalist material, but not uncompassionate. Jason sings about identifying with the protagonist, who though kept in gated protection can feel their status in the world slip away ("don't try to fight it / just relax"). I hang on the juxtaposition of scattered half-remembered scenes tossed into a druggy binge of lead guitar and go-go boot bass. A good old 19th nervous breakdown bomp, with enough mystery ("and so's your sister") to entice multiple further playings.
"You, The Medicine and Me" is when the Purrs get slower and lower, delivering a 5:35 duet drive through back lots of pharma dumps and strip malls and lost souls and suicidal stagnation. The call and response with Jima helps Jason recall a time when Seattle sang the bored Seattle suburban punk blues, before everyone started to pretend we all grew up strictly on Sabbath and the Birthday Party here. As Pete Bagge shows in HATE Comics, most Emerald City college dorm room crash rock was made of pills borrowed from older siblings who had the original sides everyone else heard on Nuggets. This is adult damage rock, with sweet backing vocals to offset the diary of mad kicked out kids looking for some kind of fix to hold back the fear.
The punchy, slappy, stinging new Purrs 45 is exactly that kind of fix.