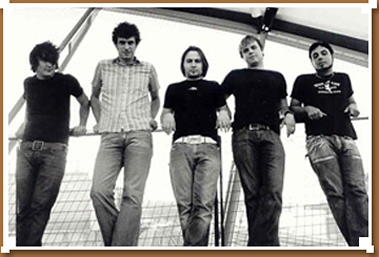 Seattle band Slender Means released one of my favorite records of 2005 (local or otherwise) with Neon & Ruin, a full-length stacked from start to finish with delectable, hook-filled, pop tunes. It's been a long, long wait for more Slender Means since, but the band has finally thrown us fans a bone with a new EP called Rock & Roll Machine. Rejoice!
Even better, the band has a fabulous, all-ages EP release show planned for this Friday, April 20th, with Barsuk artist Rocky Votolato (who is real-life brother to Slender Means guitarist Sonny Votolato). Various members of Slender Means (including Sonny) have been touring and playing in Rocky's band in the past few months, so this should be a particularly fabulous show.
Want to go to the show? Want the EP? Three Imaginary Girls has a guest-list spot and a copy of the EP for two lucky winners!
Email us here before noon tomorrow (4/19) to enter to win.