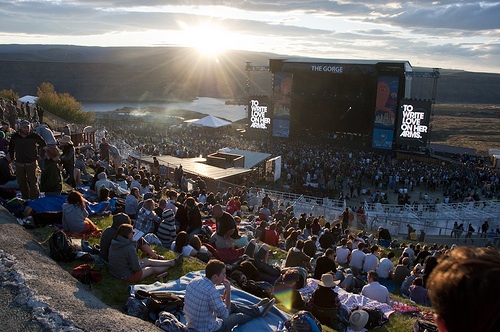 It's high time we started scouring the schedule and getting that backlog of laundry done — because this year's Sasquatch festival up at the Gorge is upon us, and we'll be heading up there for the long Memorial Day weekend (including Friday) to report back the best of what's good. Here's a blow-by-blow of what's really blasting some emotional sunshine into the damp, grey corners of our Seattle springtime:
Monday's main stage shows are going to kick serious ass. Starting with the finish line: the day will wrap up with a full frontal dose of Wilco on a stage warmed up by the Decemberists, a win-win for a variety of tastes. Prior to that, the throwback sounds of Best Coast will be assaulting us from the Yeti stage, and before that we'll shoot over to the Bigfoot stage to catch the sweet, smiling-but-melancholy sounds of Stornoway. All this and a bag of goodies after starting off our morning (at 1pm) with the Young Evils, and the first appearance at the main stage for the day to catch Mr. Miller and the rest of the Old 97's. Monday will be full of big guitars, upbeat jangle-pop, swoontastic harmonies, and hopefully, lots and lots of sunshine to go along with the vibe.
And Saturday ain't no slouch, either. With a fair amount of stage-hopping, the day basically goes like this: Coffee. The Globes. The Head and the Heart. Aloe Blacc. Split sets (or drink more coffee and clone ourselves) to catch as much of the Local Natives and Dan Mangan as we can. Sharon Van Etten. Wye Oak. Send one clone to Iron and Wine and the other to the Thermals, then reconvene for Matt & Kim. See the first half of what Bright Eyes brings to the stage, then the second half of Robyn's set, and polish the whole thing off with a closer from mainstage headliners Death Cab for Cutie.
That's tiring just to type.
Smack in the middle of all that, there's Sunday — and with it will come no rest for the weary. It'll all be worth it for even a glimpse of the Flaming Lips doing the entirety of The Soft Bulletin (!!) capped off with some face-rocking-off by Modest Mouse. Earlier in the day we're very much looking forward to getting our sway on to Fitz & the Tantrums, the soulful indie-folk.alt.TheBand sounds of our very own Moondoggies, a little bit of Northwest legendry via some Wheedle's Groove, and kickstarting our day with new-roots faves Cotton Jones. Bookending the start of the weekend will be what's sure to be great sets on Friday from Bob Mould and the Foo Fighters, we literally Can. Not. Wait. to bring you photos and in-depth coverage of the shows and adventures we have up in lovely George, Washington.
We'll see you there!
{Check out photos from last year in the imaginary flickr pool! 2010 Sasquatch photo courtesy of Victoria VanBruinisse.}