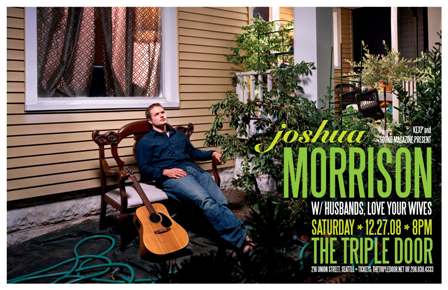 Having missed Joshua Morrison's set at the KEXP in-studio lounge at Bumbershoot, I've got to say that I'm pretty excited for this Saturday's Triple Door performance. Ever since Cheryl Waters played tracks from Home on the midday show, I've been hooked — his sweet lyrics, acoustic ramblings, and homegrown influence shine through from the opening strains to the closing notes of the album.
Here's a spot for Current that gives a good insight into Morrison's world, with some nods to local favorites DCfC and Elliott Smith. There's also some nice visual clips of the KEXP in-studio, although I believe the audio track is the album itself as opposed to that particular day's performance. It's still a treat to watch. And there's a nice writeup for the CW 11 Underground (remember when we said "underground"? and "college rock"?) here, even though the performance aired on the 6th.
Per correspondence with Expanding Brooklyn, this performance will be Morrison's last before his redeployment, slated to last anywhere from 6-10 months. I know we're all psyched about the TIG holiday deliciousness that awaits on the same night, but if you're a fan, come on down before your foray to Chop Suey to show your love and support.