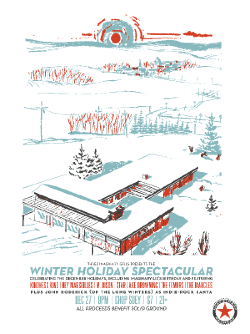 Who's ready to get out of the house and hit the town?
Tomorrow night (Saturday, December 27th) is the night of the BIG Three Imaginary Girls Winter Holiday Spectacular at Chop Suey and we'd love to have you there to celebrate all those December holidays and raise funds for a great local charity (Soild Ground).
This year the Winter Holiday Spectacular will feature performances from six of our favorite Seattle bands:
And if you haven't heard, we'll be joined by Indie Rock Santa John Roderick (of The Long Winters). You can take your place on his lap and have your picture taken by the lovely and talented Laura Musselman for free. In other celebrity sightings, the legendary Jim Anderson (from the Crocodile) manning the soundboard for the night.
It's our end of the year blow-out so there will be no-holds-barred on what the evening will have in store.
{Special thanks to the evening's sponsors: Easy Street Records and Seattle Show Posters}