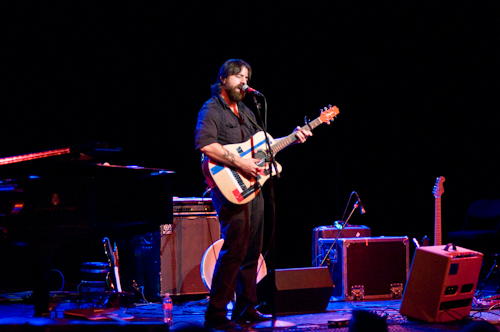 It's late summer and I have been listening to many refreshing albums, as the world heats up more than ever. And now, it's time for the Fall releases to come in, a smattering of which are below among a multi-artist round-up of what has been soundtracking my daily toil, night terrors, and lovely bits of trauma:
Nouela, Chants (The Control Group) – 8.0
Nouela was born to Norwegian and Korean parents, and learned to play everything (guitar, flute, clarinet, saxophone, bass) and has played in Mon Frere (her main first band), most recently released People Eating People (a musical roar of spiritual journaling), and has toured with Fall of Troy, Schoolyard Heroes, Say Hi, and Cursive. She is super-musical. She is mostly vox/keys now, bumping on the 88s as she Billie-Holidays all over the ex-lovers and habits she kicks to quit. PEP was a bit more diverse and jaunty; this is her complete cohesion and emotional maturation, occasionally just as ranty ("Fight") but often more explorative and sober. This is her most adult release, but it's still clever and thrilling and shows how Seattle artists can hanker down in their Ballard home-srudios and create private blisses that can be as bold in the heart as any "Jungleland." Is Nouela our Springsteen? She's born to run, but she ain't no rich Jersey bum. Let this tidal wave of creamy voice, sweet emotion, and exacto-slicing ideas slit and swarm around you till you pool toward shore.
Niki & The Dove, Instinct (Sub Pop) – 8.0
"What it takes to burn / what it means to breathe fire." Some mean that. "I'm ready to learn." Stevie Nicks is nightclubbing? Is she warm leatheretting now? (See/hear track #3, "In Our Eyes.") But, yeah. No. This is the least ironic alt-dance album you might hear all year. It bounces with weed seeds and mixed glitter thrown everywhere in its condo-clean art school dormroom, and when it coyly embraces you, it isn't sideways-safe and you're not the close-enemy, you're a prized pal. An expired-prescription generous collection of singles (including the first, "DJ, Ease My Mind," and the best, "Somebody") from this Swedish duo, which reads like a project designed to play all of Purple Rain live, but sounds like Kate Bush if she remembered to stay interesting. Instinct will not arouse arch politically correct polemics about race and kitsch. It's just a lot of fucking ABBA-infused fun.
Sean Rowe, The Salesman and the Shark (ANTI-) – 8.7
Last year Sean Rowe was lifted onto the same label as Neko Case, Tom Waits, and Nick Cave, with Magic, which had such sonorous, highly-detailed dark night of the soul suicide machine sonnets as "Jonathan" and the end of the world in a bourbon break up "Time To Think." Still, there was plenty of filler Rowe had sketched out to keep the barflys happy at all the open mics he practiced at through the Rots (Aughts for those of us on relief). But I loved it and was eager to hear the follow up, which has turned out to be twice as loaded with baritone-breathed, soul-swaddling song-soldiering than before. "I would not lose to junkies on the street," he sings on "Flying," a song that Cohen has been trying to write for ten years, "I built a highway out of dust and I was flying." Opening "Bring Back The Night" has all the heart-stoned Sunday afternoon urban resignation of Waits' own "Tom Traubert's Blues," but with less gritty distraction. "The Lonely Maze" has the best vocal melody ever stolen from a dearly barely remembered Classical tune I have no idea that it is, then doo-wops over to the blades of grass squinting up out of dirt and sand on the dusky boardwalk. "Downwind" is the absolute hit here, and if this was MY boy I would have insisted its laying low from the law, joining the carnival to stay out of the stink Beatnik bomp was sequenced first on this "platter" (does ANTI- make vinyl?!). Next up would be the chugging, churning Noir folk-funk of "Joe's Cult," which might be playing on KEXP right now. And: strings, pretty girls singing, trains, trains, trains. This is probably my favorite album of the year. A truly beautiful voice, wizened through experience and practice, lyrics well worth returning to again and again, and enough soul to smother an orphan. Hot cha.
Dan Deacon, America (Domino) – 7.0
John Dos Passos wrote The U.S.A. trilogy, which in its stream-of-conscious prose and sweeping poetic scope and visceral detail was influential on the Beats, like mystic alchemists transcribing reality compounds pre-Newton. I was thinking that Jack Kerouac might have been the first computer as I waited for the #48 to take me to a movie theater to see Cosmopolis, the new David Cronenberg movie about the murder-suicide of late feral Capitalism, as he was similarly inflicted with a need for semi-automatic writing and some sort of neo-romantic transcendalism. I listened to this album when the bus came, it sounding like best thing anybody ever could do on an afternoon with glorified typewriters and overheated modems and too much carbon monoxide leaking into the building. Just before I boarded, a tiny bright-green bug appeared on my laptop bag, looking quite unnatural: A cricket, but not a man-made cricket, it was uniform in an extreme lime-cast, and only bug-like in design. At the movie theater (Harvard Exit), the popcorn girl was talking to a customer and described seeing the same bug above her on the ceiling as she woke up, not believing it was real either. Quite a coincidence, right? And you know exactly what I'm thinking next: Military robots. Spy Locusts in the New Egypt, where we are all grid-watched wage slaves and providers of extra fake butter-flavored sauce. Anyways, America is a hootenanny, if your hoe-down was made of cyborgs and the hay was wire. Deacon is a bard of the digital blarge, and even though this stuff isn't quite as Town and The City crunchy-steamy as Toi Y Moro, it's kind of like Burroughs before Mexico.
Antony And The Johnsons, Cut The World (Secretly Canadian) – 8.0
This is a live symphonic assessment of Antony Hegarty's four albums with the Johnsons, bringing gorgeous hits from I Am A Bird Now back around with lesser known cuts. And the new title track too, the opener, which slays with imagery of soul survival connecting the brutal honesty of "Cripple And The Starfish" to where the Catholic-raised, now witchy, transgendered hero blazes from today. The next track is unusual to this release as well, "Future Feminism," a stage patter rant more genius like the electric Lou Reed Live Take No Prisoners than that gaseous Elvis burp released from on stage in Vegas. A lamentation about civilization being torn apart by male priests of what Gore Vidal called "Sky Gods," denying that paradise can be caressed and kneaded into the flanks of reality here, "FF" is full of images of blood, sacrificial and menstrual = the same. Smartly, unlike Lauryn Hill's exquisitely challenging but utterly wearying double album of song-rant-song-rant 2.0 Unplugged, Antony keeps it into one seven minute burst of revelation-thought, and keeps it engaging to boot. Otherwise, there are deep velvet curtains of strings and clear droplets of piano plinking throughout the rest of Cut The World, as Celtic end of the world dancing and dying commences, tender death and grisly rebirth and a breathless cuddle in every track. It's the art pop Boy George would have made if he hadn't been stolen by the pop art.
Chris Crofton & the Alcohol Stuntband, S/T – 8.3
I first encountered troubadour/proto-alternative comedian/garage rocker Chris Crofton in the late 90s, when he released the stripped-down acoustic and astonishingly acerbic The Alcohol Stuntman album, one of my favorite records in that proto-power-emo era. It was filled with horridly expressive self-deprecation and whiskey-soaked angst, and made me want to press his balding, scabby head between my hairy-hobo droopy freckled ginger demon man-boobs. Out of the blue, he sends me a full-length vinyl LP with a cover mocking the Black Angels in which he tells some critical-thinking crass jokes and gets terrorized by an audience member who he engages and negotiates with, defying all caustic heckling for being the insecure insouciance it is on other "alt.comic" releases. This EP CD is even more fun, featuring a grimy gut-bucket band kicking out pepper spray jelly jams based on his shit-stirring songs "She's Insane" ("she smoked a whole carton of pregnancy tests / all right / you have to cut off her arms if you want her to stop sending texts / ALL RIGHT!"), "Teenage Suicide" ("while you're in the tanning bed / she's in the blacklight with her friends / she's taking YOUR meds … you'll find them dead!"), and odes to making "your lady" happy befiore she goes into County, and how you need to get the fuck out of the wrong side of town, and "John Denver." It's white trash white lightning Shakespeare to me, full of greasy good rock and the best lyrics anyone who knows how to work the Department of Vocational Rehabitation can deliver. This rehab-recurrent sweetheart should have his own variety show Dean Martin-style on Adult Swim, and I'm not kidding: He'd keep the stoner comedy fans fed week after week between Squidbillies and Children's Hospital. If he ever comes to Seattle, I'm bringing like 40 friends.
A note from the author: I offer apology that these aren't full-length reviews, as I love nothing more than when you have enough to say about an album you can draw out a few pargraphs about and around it. But I think every now and then we do our best by a Rawhide-style YEE HAW! russle 'em up of more (inter)nationally-entrenched releases. I'm especially eager to be covering regional groups at length here in the imaginary offices in the near future, so please keep in contact and let us know what's been dancing from notebook and hand-held tape recorder to squeezeboxes, software, and buzzing amps in your lives.
{Photo: Sean Rowe at the Triple Door by Victoria VanBruinisse}