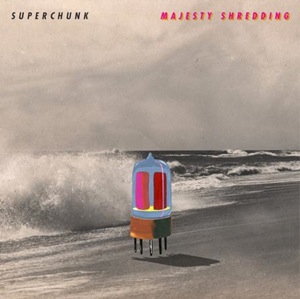 On Sunday, September 12th at Neptune Coffee, the Imaginary Crafty Listening Party will commence (Kelly's showing everyone how to make fabric flowers, woot!), and it will feature an original crafting soundtrack from Superchunk and the Thermals' new albums.
We have a full review of The Thermals coming up (it's a power pop romantic masterpiece), but we thought it would be good to specifically plug the seminal work of 90s punk pop royalty Superchunk. Especially since the new LP Majesty Shedding arrives along with must-have generational-rousing reissues of the band's second and third releases, No Pocky For Kitty and On The Mouth (1991 and 1993, respectively).
First of all, Majesty Shedding is the band's full-on reunion after many years and comes after Superchunk rubbed fan's tummies with their toys in the attic EP Leaves In The Gutter. Lead singer/songwriter Mac MacCaughan wanted specifically to make a full-length that had nothing to do with autumn years warbling or a brave new era of experimentation. Instead, the eleven tracks on Majesty Shedding could be on any album the band has recorded since the last decade; it is about definition, not reinvention. And what it defines is the band's live energy, full of explosive hooks and melodic yells and Laura Ballance's bass gargles.
Scott Solter (producer of the Mountain Goats, John Vanderslice, St. Vincent) makes the album sound perfect. Maybe a little too perfect, it's a damned shiny GTO that sort of knocks the sonic socks off anything the band has recorded before. John Darnielle from the Goats helps out on some backing vocals, and there's more keyboards here than you'd expect. Majesty Shedding is like a big bold day of summer; bright to the point of delirium, but you can't fault it for blazing brightly. Just live it large.
Meanwhile, No Pocky For Kitty and On The Mouth are newly available in deliciously remastered and liner-noted formats (with great new cover art) and are a history lesson in how the 90s was won for poppity-punk and the punkity-pop. Originally on Matador and now on Mac and Laura's label Merge, these are the sounds of college town kids who want to tell their own story. Steve Albini turns out to be a nice guy when he helps them on Pocky/Kitty, and I like to think he enjoyed recording the terse drama of "Tower" (with its belly-punching lyrics) and "Punch Me Harder" (with its tower of shredded guitar lines).
On The Mouth is the meat for me though, as opener "Precision Auto" showed the band capable of ramping up to all-pistons-fired quasi-grunge, and the six minute "Swallow That" as mysterious and possibly twisted as any track by the Pixies or some other kinda scarier 4AD post-punk performance art band. Hit-singles-on-the-better-Earth-out-there-somewhere (find it for us, Stephen Hawking!) "Package Thief" and "Untied" are tossed casually into the sequence like it ain't no thing. Which for a band burning this hot in their youth, probably wasn't.
That's a whole lot of Superchunk to chew on but you better get started now because these are so good, and get all your flower-making fabric material together too, because September 12 is coming up soon. See you in Greenwood.