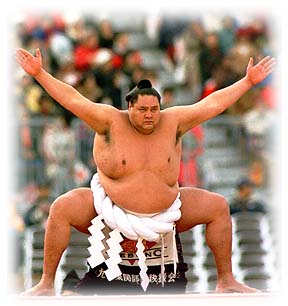 Any band guy or show-going enthuasiast in Seattle owes a debt to Jim Anderson, the amazing sound guy who's been making bands sound their best since the Croc first opened their doors nearly 16 years ago (this Monday is their anniversary!).
Jim is a quiet, unassuming fella, but if you ask him, he can regale you with tales of every amazing artist who has played the Croc (and we highly suggest you do). But what I only just learned about Jim is that he's a huge Sumo Wrestling enthusiast. Who knew? He's such a fan that he's created his own Sumo podcast, one that provides the quick-and-dirty down-low on all the days matches. I listened to one today, and even though I have no idea who the conteneders are, I sure liked listening to Jim talk about yet another topic he's really passionate about.
If you ARE a Sumo enthuasist, I'm sure this resource is invaluable.
Check it all out at www.sumorecap.com.